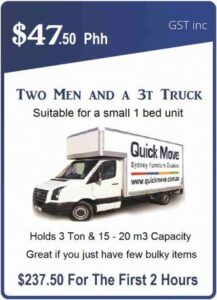 Those that are looking for cheap removalists Summer Hill must book with Quick Move today! We uphold our name by doing quick and speedy moves for a cheap price. Contact us from 7 am – 7 pm Monday- Sunday to find out more about us.
Summer Hill is a popular suburb in the Inner Western Sydney Region, located under the Inner West Council. Summer Hill is a lovely little suburb to move to, perfect for those living on their own or in small numbers. This being because the homes within the area tend to be small 1-2 bedroom apartments. Furthermore, the median house price for Summer Hill is currently sitting at $1,692,500.
Quick Move has performed hundreds of moves in and out of Summer Hill. We are the most recommended and trusted furniture moving company and we guarantee you a great service. Give us a call today on 0487 399 669 for an instant free moving quote today!
Furniture Removalists Summer Hill, Sydney NSW
Furniture Removalists Summer Hill
Our guys will complimentary plastic wrap all mattresses, completely cover all items in padded furniture blankets for no extra charge. We also bring all the necessary equipment like dollies, trollies, and tools to disassemble/reassemble any furniture needed!
Office Removalists Summer Hill
For those in need of a large or small office relocation then Quick Move is your best choice. We will happily relocate all furniture in your offices, including, electronics and even long boardroom tables. Quick Move will help relocate any furniture item no matter how heavy, large or difficult. Free use of our moving boxes are available on the day or for pre-purchase prior to your moving date.
Internal Removalists Summer Hill
For as little as $45phh we will send 2 men to assist in any internal move. Meaning we can relocate items from one apartment to another within the same building, up or downstairs without any issues. All moving equipment is provided by us and we require no assistance from our customers.
Furniture Delivery Services for Online Purchases Summer Hill
If you have bought items from online stores and were needing professional movers to relocate your items to your home then call us today. Most delivery services will only drop your item at your doorstep. We will bring it into your home and place it into your home where you need it to go.
Reliable Furniture Movers, Offering Hardworking Staff, That's Quick Move!
As a professional moving company, we will organize it from start to finish. From your first point of contact, you will be assured you have picked the right company. In addition, we can sort out the correct truck size and how many men you need. Furthermore, we bring all equipment needed to conduct a quick move. Call today on 0487 399 669 to have a chat about the areas we service!
Summer Hill is a great suburb to move to for many reasons. For example, there are many local facilities that you will definitely find useful. For instance, The Sydney Private Hospital is just minutes away as is the local Summer Hill Railway Station.
Call today on 0487399669 to book in over the phone. In addition, you can book online and take advantage of our online deals and promotions! Furthermore, contact us today and have your local removalists Summer Hill move you today.
Quick Move Proudly Servicing All Suburbs Within The Inner West City