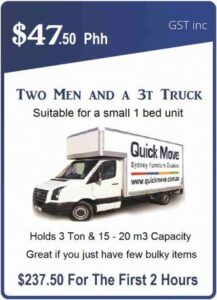 Are you looking for cheap removalists in Pennant Hills? Or a local company that won't charge like wounded bulls? Well, we have the best moving rates in Sydney. Prices that you can afford for amazing quality moves. And without compromising on quality there's no way your expectations cant be met as Quick Move can. Quick Move has helped customers by adding our online booking and quote forms. You can either contact us on 0487 399 669 for a free quote over the phone or you could do it yourself by filling out our small quote from where you can have a response in a short time 🙂
Furniture Removalists Pennant Hills, Sydney NSW
Firstly Pennant Hills is a large suburb that falls under the Hornsby City Council in the North-Western Suburbs of Sydney. This is a popular area with now currently over 8000 residents, the majority of which are families with children and professional workers, this is because it is a family-friendly suburb with many fun things to do for the whole family, the median house price for Pennant Hills is currently sitting at around 1.4 million dollars.
Secondly, large and small relocations are always accepted by our professional staff. We never turn down a move! So if you are deciding to move to Pennant Hills and were just needing a large fully furnished house removal or just a few small items Quick Move can definitely help! Quick Move really is the most affordable and local you will find. And our customer reviews can definitely agree with us, check them out today to seal the deal with Quick Move 🙂
Expert Local Home Removalists Pennant Hills For All Size Moves
Therefore here at Quick Move, we offer the cheapest prices for the highest quality moving services. Here are just a few of our most popular that we offer for cheap prices we are sure you will appreciate:
Furniture Removalists Pennant Hills For Any Size Move
Quick Move is the company you can actually trust with your items. Because we will not break the bank Or your items! Complimentary wrapping your mattresses in plastic protection wrap. Supplying free boxes for loose and fragile items, and covering all of your items in padded furniture blankets are just a start of what we can do for you for no extra charge 🙂
Furniture Delivery Services Pennant Hills
If you have bought some furniture online, then do not worry about going there and getting it yourself. You can hire our delivery van to relocate your furniture from A – B for a cheap and affordable price that you can't resist.
Office Furniture Removalists Pennant Hills
Quick Move will do anything to make your large or small office removal run as smoothly as possible, which means we will unplug your computers + monitors, relocate heavy machinery such as printers and photocopiers, and of course your general office furniture. There is no stress when choosing Quick Move for your next Pennant Hills removalist service.
Event Setup's & Relocations Pennant Hills
Not only does Quick Move provide our customers with home and furniture removalists. We also can relocate events, concert equipment, restaurants, markets, etc. No matter what you need to be done, Quick Move can always get it done for you for cheap. Our amazing inexpensive rates will certainly impress. You can rely on Quick Move for your next event relocation.
Reliable, Honest & Affordable Furniture Removalists Pennant Hills Open 7 Days A Week
Quick Move, you can really depend on us for well-done and professional furniture removal. We have received hundreds of calls from people who have mistakenly chosen other removalists for their move. And have either performed a terrible job that didn't rise to their standards. Or they didn't arrive at all. Quick Move will never do that to you which is why we should always be your number one choice. For those that have had this happen to you, we will happily organise last-minute relocation to Pennant Hills whether it be on the same day or first thing the next morning we will always get around to you.
Pennant Hills is a family-friendly suburb that has a large spectrum of fun things to do
These include The Koala Park Sanctuary which is just over on the West side of Pennant Hills just a short 11-minute drive away from the main drag of Pennant Hills! Therefore, this is a great place to take the family as you get to learn all there is about Koalas.  And if you're lucky you might even be able to hold one! Serving throughout the whole Sydney region see our service map.
Make a booking by simply going online and taking a small moment of your time to fill out our online booking form and after that poof, you're done! Therefore you can expect a tough pair of hardworking removalists. A moving company that will perform a great service. However with a price you didn't expect! If you are on the go you can easily give Quick Move the local removalists Pennant Hills a call today on 0487 399 669. And our wonderful staff will get you all booked in and ready for your Quick Move.
Quick Move Proudly Servicing All Suburbs Within The Hornsby Shire