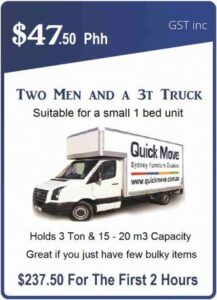 When you are looking for cheap removalists Wahroonga, we promise you will not find any better removal company. We provide all movers moving to Wahroonga with a cheap and affordable alternative to another expensive mover. We understand moving homes is already stressful why would we charge an unbelievably inexpensive price as well. You can contact Quick Move today and our staff will happily tell you all about us.
Furniture Removalists Wahroonga, Sydney NSW
Wahroonga is a very popular suburb in the Northern Suburbs of Sydney that falls under the Hornsby Shire Council and the Ku-ring-gai Council. There are currently over 17,000 residents in Wahroonga that love this suburb. The majority of which are those who live on their own or small families. A large amount of the houses are in fact high-rise apartments or very large homes with beautiful backyards which brings the median house price up to around $1,735,000.
Moving homes is usually a very stressful experience. However only if you do not choose a trustworthy and assuring removalist company. Quick Move is the furniture removalist you need that will make sure all you do is sit back and relax. Let us worry and while the professionals take care of all the hard work. Quick Move also services the whole Sydney region.
Affordable Home Removalists In Wahroonga Sydney
Quick Move is available to help anyone that is in need in your area for a cheap and affordable price that will leave you shocked, here are the services we have found are the most popular in your area:
Office Furniture Removalists Wahroonga
Quick Move's qualified for all removalist services. Especially because of the intense training sessions they have been through. Plus the majority of our workers have over 8 years of experience.
Last Minute Removalists Wahroonga
Quick Move is the mover in Sydney providing all customers with professional moving services. Other movers in the Wahroonga suburb definitely cannot keep up with it. If you have any sort of emergency then Quick Move is your guys that will get the job done. We can organise a last-minute relocation that could even be done on the same day of your call!
Small Removalists Wahroonga
A large portion of homes in Wahroonga is typically small apartment buildings. Our company specialise in these small relocations as not only is it quick and cheap for the customer. Therefore keeps our men energized and on their toes. However, if you are luckily moving into the small percentage of large homes in this suburb then we have the men and the truck sizes to definitely help you!
Furniture Removalists Wahroonga
Quick Move has the tools that won't break the bank or your items. Because as we are professional furniture removalists that you can actually trust and depend on. There is no other moving company that will completely wrap all of your items in padded furniture blankets. Did you know we complimentary plastic wrap all of your mattresses, and even provide tools if we need to disassemble or reassemble any item.
Reliable Furniture Removalists Wahroonga 7 Days A Week
If you were needing other removalist services like our fridge and heavy appliance relocations Wahroonga then Quick Move can help you with that. Our guys are qualified to relocate any heavy appliances you have and we can even install them into your new home. We make sure that when we relocate your appliances we take all safety precautions. That way to make sure they do not damage during transit. We have even installed hydraulic tailgate lifters to make sure that your items are kept upright during transit.
Wahroonga is a well-known and loved suburb for many reasons. There are many residents in this suburb that demands more fun things, especially for the children. And they host their very own festivals and events quite a lot, for example, the spring fair is coming up which is a fun little round-up that is hosted at the Wahroonga public school.
If you were needing to either get a quote or book in with Quick Move then we have made that super easy for you. Therefore you can either call Quick Move today on 0487 399 669 and we can help you over the phone with whatever you need. Or you can apply for a free moving quote just by filling out our small form online where you will receive a response within the hour! To make a booking online all you have to do is fill out our online booking form, when you access that you will even be offered a discount code offering a 5% that will be activated upon purchase, how can you say no to Quick Move?!
Quick Move Proudly Servicing All Suburbs Within The Hornsby Shire