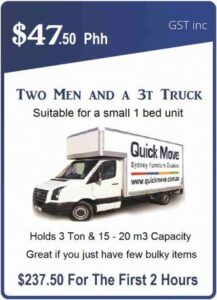 If you are looking for cheap removalists Pyrmont then you are in the right place! Hire Quick Move today to receive a professional and well-done move done by the best moving company. Quick Move offers the cheapest rates for everyone looking for movers. If you would like to know more about us then don't hesitate to give us a quick call today on 0487 399 669 and our staff will happily explain all the reasons why we are the best movers you could choose.
Furniture Removalists Pyrmont, Sydney NSW
Pyrmont is a large and known suburb in Sydney that falls under the City of Sydney Council in the inner suburbs of Sydney. It is a great suburb to move to, especially for those who live alone. This is because the majority of the homes in Pyrmont are quite small with a maximum of around 3 bedrooms. Homes are usually selling in high-rise apartment buildings, the median house price for this suburb is currently $1,609,593.
If you are wishing to book with the cheapest movers then Quick Move is prepared and ready for you! Make sure you give us a call today on 0487 399 669  and our amazing staff will easily provide you with a free moving quote! Or you can do it yourself. You can expect a detailed reply within minutes from our professional staff.
Quick Move Pyrmont Movers, Cheap Not Nasty!
Quick Move is the company that offers cheap services throughout the whole Sydney region. So if you weren't sure about Pyrmont, you might be more interested in the areas we service.
Office Removalists Pyrmont
Large office buildings take up a large portion of Pyrmont and surrounding suburbs. So our men all have an extensive amount of experience in doing large to small office moves. Quick Move can relocate all of your business furniture for a super cheap price! Choose Quick Move for the most professional office relocation.
Two Removalists Pyrmont & One Truck Services
If you are looking for high-quality movers for the lowest prices possible, then Quick Move is the company for you! We offer our services including two trained and experienced movers as well as the quoted truck for you! All for as little as $45 phh. That is an incredible deal!
Last Minute Furniture Removalists Pyrmont
Other companies have a harsh reputation after many people have complaints of unprofessional work coming from unhappy customers. Quick Move has a great reputation that we wish to maintain. We are the best choice for you if you are deciding to move to Pyrmont. For those that have unfortunately experienced poor service, we can help! We will try our best to perform the last-minute or emergency move that can be done!
Furniture Removalists Pyrmont
Quick Move takes the best care of all of your items. We make sure we pack all the necessary equipment to help your move go quickly, smoothly, and safely so that you have a happy and joyful experience with no stress. We repack, trolleys, and dollys in case their unforeseen height restrictions or no parking spots available, we also bring free boxes that we can put your loose items in and we even bring tools to help disassemble and reassemble certain furniture.
Reliable Furniture Removalists Pyrmont 7 Days A Week
Fridge deliveries and heavy appliance relocations have been very popular requests for our men. We are the best at what we do and we will make sure all of your appliances will be kept safe throughout the entire move, now that we have our hydraulic tailgate lifter we can do just that by keeping your fridges and heavy appliances strapped safely standing upwards against our truck. Not only can we deliver your appliances to your new home in Pyrmont but we can even set them up and install them for you 🙂
Living in Pyrmont will be an absolute delight, especially because the majority of the homes are high-rise apartment buildings right near the harbourside with absolutely AMAZING views from your windows. There are many things very local to Pyrmont as you are only 12 minutes away from the CBD that has so many fun things to do for people of all ages!
If you are looking for professional movers that you can actually rely on and trust then Quick Move is just a phone call away. Give us a call today on 0487 399 669 and our staff in our bookings department will get you all booked in for the date and time you would like 🙂 Or you can make a booking on your own and receive a 5% discount just by booking online! What a steal!