Furniture Removalists Pitt Town, Sydney NSW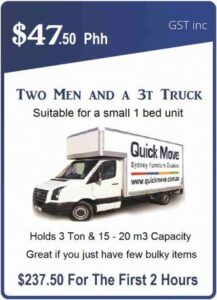 Quick Move prioritise your moving experience and the safety of your items more than anything. Firstly we are open 7 am-7 pm Monday -Sunday. Secondly, we do not charge extra for weekends or public holidays. Thirdly we come equipped with all tools trolleys and always send 2 men. Lastly and most importantly we are contactable every day of the week. For your free moving quotes, call our removalists Pitt Town today on 0487 399 669.
Pitt Town is a suburb on the smaller side having around 3000 residents and falling under the City of Hawkesbury. This is a great suburb to move to for families with children or retirees as the suburb is quiet and friendly. The majority of homes are large homes with big backyards, the median house price for Pitt Town is currently $1,100,000.
Many other moving companies do not live up to simple expectations and have been known to let many of their customers down. If you have been let down and are needing a last-minute move the call us today.
Cheap Home Removalists Pitts Town
Here is a small list of our most popular services we believe you will be interested in:
Office Removalists Pitts Town
Quick Move provides all of our clients with the professional service they need for their office relocations. Our men will completely relocate all furniture including meeting tables, filing cabinets, etc wherever they need to go. There is no limit to what Quick Move can do for you.
Furniture Removalists Pitts Town
If you are in need of professional movers to relocate your items with genuine care and caution, then call us today. We will complimentary plastic wrap all mattresses and we also cover all items in padded furniture blankets for no extra charge.
Internal Removalists Pitts Town
Sometimes you just need to relocate heavy items within the same premises. No problems at all. We can definitely do that, all for a cheap price too! There is no way you could choose any other moving company than Quick Move. Our prices are fully inclusive. No hidden fees or charges.
Fridge & Heavy Appliance Deliveries Pitts Town
Most stores do offer a delivery service but will only drop it at your front door and leave. If you have purchased any heavy appliances from a retail store or online call us today. We will have 2 men pick up and deliver the item right into your home where it needs to go.
Affordable Furniture Removalists Pitts Town 7 Days A Week
Quick Move had made it easy to make a booking online. Take advantage of our daily deals and specials. You can also contact us today on 0487 399 669 to make a booking over the phone with our helpful office ladies within the bookings department!
Quick Move Proudly Servicing All Suburbs In The Hawksbury City