Furniture Removalists Duffys Forest, Sydney NSW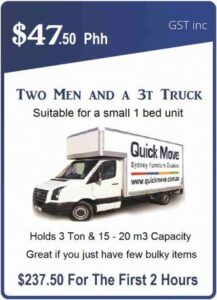 Quick Move's men are the professional removalists Duffys Forest you need for your furniture relocations in Duffys Forest. There is no way you could choose any other company for the job! Our men have the qualifications and experience to relocate any items, anywhere! Give us a call today on 0487 399 669 to ask more questions about us!
You will love living in Duffys Forest. This suburb is a small suburb with just 474 residents located within the Northern Beaches, falling under the Northern Beaches Council. This suburb is great for families with children as the homes within the area are generally quite large, mansion-like homes. Furthermore, the median house price is currently sitting at $3,660,000.
You should give Quick Move a call today on 0487 399 669 and our staff will be available to answer any questions you may have. The areas we service include the entire Sydney Region! Therefore, if you have been looking for furniture movers in Northern Beaches instead. Then Quick Move can most definitely help you! We also make exceptions to a range of outer cities, contact us to find out if we can help you!
Reliable Home Removalists Duffys Forest
This list of Quick Move's popular services will be quite useful to you if you're moving into Duffys Forest:
Last Minute Removalists Duffys Forest
Firstly, if you are in need of last-minute/emergency furniture relocations then you are in luck. Quick Move is here to save the day! We are always prepared with surprise moves and make sure our trucks and employees are ready to go if needed. Give us a call on 0487 399 669 to check our availability
Fridge & Heavy Appliance Removalists Duffys Forest
Secondly, there is absolutely no way anyone can beat our low prices and high-quality moving services. Our men make the most effort to keep your items safe and sound throughout the entire move. We use Hydraulic Tailgate lifts, trolleys, dollies and tools in case we need to assemble/disassemble any items.
Internal Removalists Duffys Forest
Thirdly, if you are in need of trained movers to relocate heavy items within your home. Quick Move can definitely help you! Not to mention dor a cheap and inexpensive rate that will blow your mind. Do not stress if you have stairs/lifts as Quick Move does not charge extra for this! Many other movers take advantage of this and can charge up to $5 a step!
Affordable Furniture Removalists Duffys Forest 7 Days A Week
Additionally, Quick Move is the most trusted movers throughout the entire Sydney Region. Check out our customer feedback today to see exactly what our previous clients are saying about us! We guarantee after you read all the lovely things the people of Sydney are saying about Quick Move, we will be your number one choice.
There are many reasons why Duffys Forest is a great suburb to move to for families with children. The majority of the homes are mansions with many rooms with large backyards or acreage as well as pools. You will not regret moving into Duffys Forest!
Finally, if you would like to choose Quick Move for your furniture relocations. Then you can do that today by simply making a booking online with our booking form. You will also have access to a 5% discount only available to online bookers. Give us a call on 0487 399 669 for our helpful staff to book you in over the phone today.
Quick Move Proudly Servicing All Northern Beaches Suburbs Of Sydney