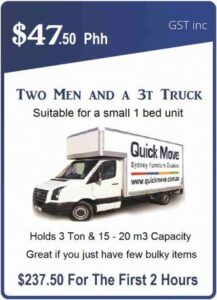 Quick Move, your local removalists that offer the cheapest prices in Sydney for the best services. Seven Hills is a very known area in Sydney and is considered quite popular. The suburb is known to be one of the best suburbs in Sydney for families with children and retirees.
Seven Hills is a large suburb in the Parramatta Council Area, it has approximately 19,000 residents. The median house price for Seven Hills is $690,000. The majority of Seven Hills homes are small 3-4 bedroom-sized homes. Seven Hills offers 5 schools and 6 places doing child care, which is very convenient for families.
Furniture Removalists Seven Hills, Sydney NSW
Firstly, Quick Move is the most popular and affordable movers in all of Sydney and our customer reviews can confirm that. We work under your instructions so all you have to do is let us know what you want to be moved and our professionals will do it all for you 🙂 Call us now on 0487 399 669 for a quick quote, or get a quote online by answering a few questions and you will get a reply as soon as possible.
Reliable, Respectful & Reputable Movers To Relocate Your Home
Secondly, We have moved hundreds of people to this area especially more recently as more and more people have recognized the best parts of this suburb. Quick Move has been in the industry for 10 years now since our establishment in 2011. We have now become the number one Sydney moving company! Quick Move is Seven Hill's best local movers. We specialize in a small house or unit moves. Although, we can do anything you ask us to do whether it be small office moves, large 6+ bedroom homes Quick Move really can do it all and it's all thanks to our amazing employees.
Our men are hard-working and responsible, they have had a minimum of 5 years experience before being hired at Quick Move. Therefore, they already know exactly what they are doing. Furthermore, we of course still do monthly or yearly training courses to keep them fit and aware of their expectations.
If you have any questions feel free to call us between 7 am and 7 pm on any day of the week at 0487 399 669 and we will happily answer any questions you have, or you can simply check out our frequently asked questions.
Affordable Furniture Removalists Seven Hills 7 Days A Week
Quick Move knows the inside and out of Seven Hills. Our men have great experience in the area and know the parking situations and general environment. Booking with Quick Move is the elite move. We offer the best services, not only will we move all of your furniture we can also help pack/ unpack boxes. We will also disassemble/reassemble any items needed. Quick Move is here to help! Read more about us and you'll definitely want to choose us once you have finished 🙂
Quick Move is the number one company in all of Sydne
y. Anything you need to be done Quick Move can do it for you! We provide free boxes, will plastic wrap all mattresses. And ensure all items are covered in padded furniture blankets. Our men are extremely experienced and their main goal is to have the customer satisfied. All customers deserve the best move possible and Quick Move can do that for you. Call us now on 0487 399 669 to book in with Quick Move. You can also easily make a booking online just by filling in a quick form with all your details. You will not regret choosing Quick Move for your future furniture relocations!
Quick Move Proudly Servicing All Suburbs Within The Parramatta City