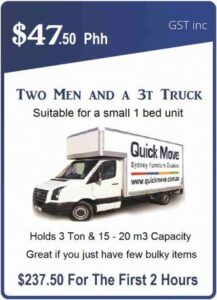 Home furniture removalists Asquith. Thinking of moving to Asquith? well, Quick Move will happily do that for you. Asquith is a very lovely suburb with a friendly community and a welcoming look. Asquith is the perfect place to move to. There are only approximately 4000 residents, not a large number for such a popular suburb in Sydney.
Furniture Removalists Asquith, Sydney NSW
Quick Move holds the best removalists in Sydney, were talking about men with over 5 years of training and experience before employment at Quick Move, these men are hardworking, professional and they won't let you down. We can't let you settle for less than perfect, so book with Quick Move and we are sure you'll be happy with our services. If you are moving into Asquith you are most likely moving into a small 1 or 2 bedroom apartment.
Now luckily for you Quick Move specialises in small moves and will happily relocate all your furniture in no time. Asquith can be quite pricey but trust us it's all worth it check out the local council while you there. A general 2-3 bedroom home can range from 800,000 to 900,000. Although it is pricey the homes are very beautiful and modern and the community surrounding them is as well. Quick Move is the best choice for you if you're thinking of moving to Asquith, who better to move you than Asquith's local removalist company?
Home & Business Removalist Service In Asquith
Asquith is a popular suburb with some interesting history, the suburb was given its name in 1915 by the prime minister of The United Kingdom. Not long after the Asquith train station was installed making it one of Sydney's oldest rail stations. Quick Move has very high expectations and standards with our workers and they easily exceed them. Quick Move is the most trusted removalist company in the whole of Sydney let alone Asquith.
The Quickest Asquith Removalist That won't Let You Down
Quick Move does everything a whole lot better than most removalists in Sydney, for starters our men will never leave you in the lurch. we get multiple phone calls a day from customers who have been left stranded by other removalist companies who failed to turn up, even after payment. Quick Move will never do this to you. We have made our website extremely easy to navigate around and especially easy to get a quote, all you have to do is answer a few questions and you can expect an email with our rates and trucks that would suit your move best.
Real Experienced Movers in Asquith
Quick Moves does jobs to and from Asquith on a daily basis so we can truly say our removalists know the suburb like the back of their hand. After Quick Move has got you all set up into your new home you could sure use a day or night out. Quick Move has a range of deals, specials, and inclusions when you book with us. Most removalists charge extra for small things like stairs and lifts, not Quick Move not only do we do stairs and lifts for free we also bring all the necessary equipment to move said items.
Packing Boxes For Your Next Move To Asquith
Quick Move comes prepared with a large number of boxes available for use on the day for free! We also provide free plastic protection wrap on all of your mattresses that we would be moving. We wrap all of your furniture in padded blankets for extra protection during transit. Our men are extremely careful and protective of your items when we are moving them. You can trust Quick Move to make your moving experience carefree and relaxing for you. Have a scroll through our customer reviews to see just what the people of Asquith are saying about us 🙂
Cheap Budget Removalist Asquith & Local Areas
You can't go wrong with Quick Move, moving, in general, is extremely hard. That is where Quick Move comes in. It doesn't have to be hard for you at all, actually could be very relaxing. Our removalists are very hard-working men who can and will move anything for you. And even take the extra step to help you pack into boxes and assemble/disassemble. Our number 1 priority at Quick Move is to have the customer satisfied with our service.
Something you should know about Quick Move
Quick Move started in the removalist industry with just 1 man and a tiny truck, doing everything by himself it was quite the struggle. Now we are one of the biggest companies running in the business with over 60 employees and 20 trucks. Quick Move is the most trusted removalists Asquith. We have approximately at least 2 jobs a week moving to or from Asquith. We have made it so easy for customers to make a booking, you can simply call us at 0487 399 669 or you can book online.
Quick Move Proudly Servicing All Suburbs Within The Hornsby Shire