.
Furniture Removalists Greystanes, Sydney NSW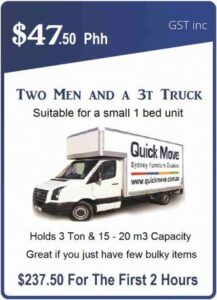 Quick Moves furniture removalists are the men you need to relocate your items today! If you've been searching for cheap and affordable services then you have definitely come to the right place. We offer the lowest prices for unbelievably amazing experiences that no other Greystanes removal companies can compare with. Give us a call on 0487 399 669 if you would like a free moving quote over the phone today. You can also apply for a quote online using our online quotation forms.
Greystanes is a very large and populated suburb in the Cumberland Council, falling within the Greater Western Sydney Region with a shocking 22,200 residents! This suburb is a popular place to move to for many reasons. For example, the suburb has its very own Greystanes Public School, High School, as well as a Greystanes Shopping Centre! All of these are extremely useful, especially for families with children! The median house price for Greystanes is sitting at approximately $830,000.
If you're interested in knowing more about Quick Move and the services we provide, check out our about us page through our website. We have a FAQ page, and you can also access our customer reviews online to see all of the amazing things our wonderful clients have been saying about Quick Move! Hopefully, all of these indicate that Quick Move is in fact, the best choice when moving homes to Greystanes.
Reliable Furniture Removalists Greystanes 7 Days A Week
If you have been needing other services surrounding Greystanes such as cheap moving services Parramatta, then lucky for you Quick Move actually services the entire Sydney region. We also have a selection of outer cities we can help with, check these out in the areas we service. Therefore, we can most definitely help you when moving into Parramatta if that is what you need! Contact us today by giving us a call on 0487 399 669 if you have any more questions about where we service and how we can help you!
Making a booking has become extremely easy for all clients. All you have to do to book online is simply fill out the required forms and once you're finished you will receive an email. This email will let you know that your move is confirmed and you shall be expecting your movers on the right date. It's that easy! You can also give us a call on 0487 399 669 today between our available hours of 7 am and 7 pm. If you would rather speak to one of our staff before booking in, contact us, as we are always here to help!
Reliable Home Removalists Greystanes
Office Removalists Greystanes
When moving your office furniture, Quick Move always makes sure to allocate some of our best movers. This is because the selected men have been with us for over five years. They have extensive experience in all furniture relocations! Quick Move will relocate all business furniture, no matter how big or small. This includes long boardroom meeting tables, which we are sure you are aware are quite heavy to move for the average person. Our men will take on the challenge and get it done in no time!
Furniture Removalists Greystanes
Quick Move has the men you can genuinely trust with your items. We organise extra services such as complimentary plastic wrapping placed on all mattresses we move for you, free packing boxes available for you to use on the same day of your move. Lastly, we provide and bring along all necessary equipment such as trolleys, dollies and tools for disassembling/reassembling any items you request. All of this is included in the cheap and affordable price that we offer!
Home Removalists Greystanes
A service that we are positive all other companies do not offer is internal furniture relocations. These are very popular for those who are unable to, or simply wish not to move furniture on their own, within their own home. We can send out as many men you need and relocate heavy items other businesses may refuse. Quick move is always happy to help and will not let you down!
Quick Move Proudly Servicing All Suburbs Within The Cumberland City