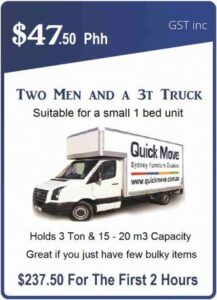 Avalon is a great place to call your home, the houses are very welcoming and so is the community, and who better to move you than removalists Avalon. Quick Move has an immense amount of experience in the Avalon area. And we feel it is quite a popular suburb! With around 10,000 residents around, you could say it's one of the most popular areas in Sydney. The main cause of this is because of their beautiful beach, a perfect place to relax after a move.
Quick Move Avalon removalists will make your moving experience as easy as possible for you. All you have to do is sit back and let our professional movers do all the work for you. Avalon has so many great places to go and events that everyone is sure to enjoy. Avalon local council supplies public transport to everyone! Whether you don't have other ways of transport or you are trying to contribute to helping the earth. You can get all-around Avalon by catching buses that are open to the public.
Furniture Removalists Avalon Beach, Sydney NSW
Learn more about Quick Move and I'm sure you will choose us for your move, as we are trusted by thousands in the Avalon area 🙂
I'm sure almost everyone can agree. After Quick Move has relocated your items into your new home there are many things to do! Such as events and community classes. Art galleries such as the Coastal Art Gallery seem to obtain quite a lot of attention in Avalon.
Free Boxes, Free Wrap & All Moving Services Include Two Men!
Quick Move is the number one Avalon removalists without a doubt. We take the extra step at Quick Move to even assemble/disassemble any items required. Our customers can't complain as our services are extremely professional and efficient! We put our customers' needs first. We make sure they are kept safe and unharmed. Avalon is just out of Sydney by a smidge so you may need to be charged for out-of-area service, although you can double-check the areas we service just to be aware.
Home Furniture Movers Avalon, Budget Movers Avalon
Quick Move is Avalon's most loved and trusted moving company by far! We get thousands of moves each year so trust us, we know them inside and out of that suburb. Our men do moves there so often they can easily pinpoint the best restaurant in town.
Quick Move assists with all removalists Avalon requests. That includes moves like relocating heavy equipment, and of course regular house appliances and furniture. Quick Move has no sneaky charges unlike many other companies in Avalon. We do not charge extra for stairs or lifts whereas other companies tend to charge up to $7 a step!
GST is included, and free plastic wrapping on mattresses. PLUS free boxes and they returned on the day of the move! How could you not choose Quick Move?! We set our priorities straight and make sure we achieve the ultimate goal! Grab a quote online just by answering a few questions, then you can expect a response within minutes!
Cheap Removalist Avalon? Thats Quick Move!
Quick Move is the best choice for you if you're planning on moving to or away from Avalon, why? simply because we are the most trusted and professional team out there. Quick Move has a wonderful set of staff that will help and answer any questions needed, you can contact us at 0487 399 669 and our lovely girls at the office will answer. Quick Move does a range of moves every day from 1 item moves to full furnished 6+ bedroom homes, we also will happily pick up and deliver anything whether it be from Gray's online, IKEA even eBay. Avalon is a perfect place to move to especially for families, the community is so welcoming and friendly, the homes are cozy but spacey for small or large families and there is something here for people of all ages to do.
You cant choose other Avalon removalists for your house move, no other company will take care of your items and relocate them safely like us, no one can offer better movers than us as we have carefully selected approximately 50 men with a minimum of 8 years experience and NO ONE can compare their prices to ours as we are the cheapest and most affordable business in the industry.
You can book online with Quick Move removalists Avalon all you have to do is answer a few questions and you can expect 2 men and a truck on the day you selected :).
Quick Move Proudly Servicing All Northern Beaches Suburbs Of Sydney