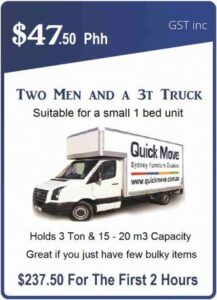 Welcome to our official removalists Glossodia page! During your read, you will see why Quick Move is the best choice for you! We are the cheapest movers in Sydney! If you are looking for affordable furniture relocators then you must book with us! We service the whole Sydney region. Therefore, if our Glossodia movers aren't exactly what you were looking for. We can still assist with your move outside the suburb. In fact, we even have a selection of areas we service outside Sydney! Contact us
Furniture Removalists Glossodia, Sydney NSW
Glossodia is a small suburb in the North-Western area of Sydney, falling under the Hawkesbury City Council. This suburb is perfect for families with children and retirees. It has many local and useful facilities with friendly and safe communities. This suburb has approximately 2000 residents so it is considered quite a small suburb comparing to other suburbs in Sydney. Glossodia is a great place to move to but we are sure you already know that! Make sure you choose the right movers aka Quick Move, for a smooth and relaxing furniture relocation.
Quick Move has been in the moving industry for over 10 years now. We have gained over 50 hardworking movers and now own over 20 trucks of all different sizes. If you would like to know all about us and how we will perform your move then you should definitely call Quick Move today! You can contact us on 0487 399 669 and our helpful staff in our head office will provide you with a free quote!
Affordable Home & Office Relocations 7 Days A Week
Furniture Deliveries Glossodia
When relocating your items, your movers will take every caution to prevent damage upon your items. Our main priority when moving homes is our customer's satisfaction with their move. We will even complimentary plastic wrap your mattresses AND wrap all of your furniture in heavy-duty padded furniture blankets. This is all free of charge, that's what I call a steal!
Two Of Our Men & One Of Our Removalist Trucks Glossodia
When choosing Quick Move you get the professional and efficient movers you paid for. With our cheap rates and amazing guys, there is really no other choice than Quick Move. Every move booked with Quick Move receives 2 hardworking men and the truck size of your choice or our recommendation. Additionally, we supply all the tools and equipment, something other companies do not offer.
Office Removalists Glossodia
When relocating to your new office you must choose Quick Move. Office relocations have to be one of our top services. Therefore, our men have experience and training to perform what you would call, difficult jobs. We will relocate all of your office furniture, unplug and relocate computers, provide and pack archive boxes. We are thorough movers who will perform your relocation with extreme professionalism. You will not regret booking with Quick Move.
Internal Removalists Glossodia
If you are looking for a couple of strong men to relocate your heavy furniture upstairs or other tight squeezes. Quick Move's relocators can help you with that. You can hire as many men as you need for an internal relocation. There is nothing our man cannot do to ensure a smooth moving service for our clients.
Reliable Furniture Removalists Glossodia 7 Days A Week
Quick Move is your local moving company offering cheap furniture relocations 7 days a week from 7 am to 7 pm. Do not hesitate to give us a quick call during those hours on 0487 399 669. We will have one of our helpful staff organise a quick relocation for you. Unlike other moving companies, Quick Move is a professional business and will not let you down. We have received hundreds of calls over the years from people that have mistakenly chosen a dodgy company. Many have been left stranded or left with poorly organised moves. If this has happened to you, you're in luck as Quick Move will perform any emergency relocations to those who need it.
Glossodia is a great suburb for families with children and retirees. This is because the homes in this area are very spacious with around 2-3 bedrooms with decent-sized yards. The median house price in this current state is $635,000 which is a very cheap price for the benefits and advantages of living in the suburb. There are local primary schools and high schools, and there is a local shopping village right in the suburb. You will really enjoy living in Glossodia and who better to move you there than your local movers.
You can make a booking online all by yourself just by filling out a small booking form via our website. When you're done, you can expect 2 hardworking men to come and relocate all of your items. Or you can contact us by calling 0487 399 669 and our staff will get you booked in over the phone. You're making the right choice when booking with Quick Move.
Quick Move Proudly Servicing All Suburbs In The Hawksbury City