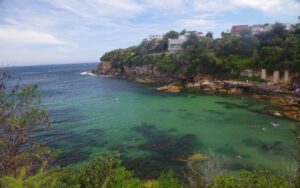 Malabar is a beautiful beachy suburb to move into, and there would be no better company to hire than Quick Move, who have high quality and the cheapest Malabar removalist services in Sydney. If you would like a free quote or to ask us about or prices and services, you can apply online or give us a call on 0487 399 669, and our highly trusted removalists will answer all your questions.
Hire Cheap Removalists Malabar Today!
Malabar is one of the suburbs in Randwicks council, and is a suburb that is located in south-east Sydney, Beach lovers this is the suburb for you! Malabar beach is one of the suburbs many wonders, and is the local beach of the town. Family with children? this is also a great suburb for you to move into! As many of the homes in Malabar have multiple stories and 3+ rooms for your little ones to run around. There are also plenty of small and cosy homes Retired families and singles can move into. There also shopping centre within close distance, as South Maroubra Shopping Village takes only 5 minutes by car to get to!
If you'd like to see customer reviews of our services or want to ask any questions, You can call us on 0487 399 669 and one of our lovely office ladies will answer. We have had this company running since 2011, so our workers have had 9 years of experience working with us, and helping you, so please do not worry about your move as your furniture is in extremely good hands!
Reliable Home & Office Removalists Malabar
Needing furniture relocated up/ down stairs and lifts? no worries! As we do not charge extra for that service. We can move anyone and anything no matter the circumstances! Files and documents can be lost and strayed around when moving offices, however, Quick Move provides free archive boxes to help with your situation on the day of your move you are most definitely available to use for any last minute packing :).
No matter the size of the homes we can and we will provide our highly trusted and respectful removalists Malabar. If you have a large quantity of furniture we also have highly secured trucks, ranging from a Ute to 12-14 tonne removalist trucks to relocate your items so they are not crowded and at further risk of damage, ensuring a quickly and safely allocated move.
There is no need to worry about the safety of your furniture when booking with Quick Move as our very helpful removalists Malabar will provide complimentary plastic wrapping for your mattresses. We will completely cover all items in free padded furniture blankets. If you'd like something to be disassembled or assembled, our removalists Malabar can help you with that, this way there is no risk when moving your large furniture through tight squeezes like door frames and small hallways.
Affordable Furniture Removalists Malabar 7 Days A Week
We provide our services to help you move all throughout the Sydney region. if you were looking for other suburbs to check out surrounding Malabar which may be the general area you are interested in you should definitely check out our page for furniture removalists Randwick. We even assist those in need of removalists Malabar to some surrounding cities of Sydney, so if you would like to learn more about the areas we service and if we can help you, give us a call today on 0487 399 669 :).
Malabar is a beautiful suburb you will adore! It has lots of open land and parks for children, as well as beautiful beaches surrounding the suburb. Malabar is very close to the city of Randwick, therefore, Randwicks parks, shopping centers and clubs are close by and will be very useful, and not too far away!
Want to move in to you new home in Malabar with Quick Move? Great! You can make a booking right now online all on your own! Or you can ring us up on 0487 399 669 between our contactable hours of 7am-7pm and one our lovely ladies will book you in! Hope to see you booking with Quick Move soon!
Quick Move Proudly Services All Suburbs In The South Sydney Randwick City