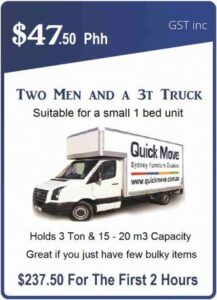 If you were thinking of moving to Mays Hill and were needing cheap removalists, give Quick Move a call on 0487 399 669 and we can happily help you! You can contact us any day of the week from 7 am – 7 pm and we guarantee one of our wonderful office ladies will answer all questions you may have about us.
Mays Hill is a small suburb in the Western suburbs of Sydney and is located within both the Cumberland Council and the City of Parramatta.
Furniture Removalists Mays Hill, Sydney NSW
This suburb has just a small number of 704 residents as of right now. The majority of those living in this area are those living on their own or small numbers. The homes are usually small 1-2 bedrooms in high-rise apartment buildings.
If you were moving to Mays Hill and were needing movers, then you have come to the right place. However, if you were needing our services for another suburb such as furniture moving services Parramatta, or any other suburb surrounding Mays Hill, then Quick Move can definitely still help you with the cheap and affordable prices we advertise.
Locally Owned & Run, Experienced Movers With Experience
Small Removalists Mays Hill
Many homes in Marys Hill are small 1-2 bedroom homes. This is great for Quick Move as we specialize in small moves just like that! We have a small truck and two hard-working men deal for just $45 phh! This is a deal you cannot refuse, you will not find any other companies as cheap and reliable as Quick Move!
Office Removalists Mays Hill
If you are needing professional office movers to relocate your general office furniture. Quick Move is your best bet for a safe move. Our men will relocate items including, electronics, heavy machinery such as printers, and long boardroom tables. We will offer you the cheapest price for the best quality moves! We operate all 7 days of the week so give us a call at any time to hire Quick Move!
Fridge & Heavy Appliances Deliveries Mays Hill
Fridges and other heavy appliances are heavy and extremely difficult items to move, but not for Quick Move! Our men can relocate your items in no time, making sure we are quick yet safe along the way. Give us a call today on 0487 399 669 for our appliance deliveries.
Furniture Removalists Mays Hill
If you are in need of furniture movers that actually care about your items, then you're in luck. Quick Move's priorities sit at keeping your items safe and sound during the entire move! We will complimentary plastic wrap all mattresses for extra protection, and we will even provide free moving boxes on the day of your move-in case there are any fragile or loose items.
Affordable Furniture Removalists Mays Hill Open 7 Days A Week
Quick Move are the reliable removalists you can really trust! If you have unfortunately fallen victim to bad moving experiences with previous companies, then you must hire Quick Move for your next service. We meet and exceed all expectations, there are no other removalist companies like us! Make sure to give us a call today on 0487 399 669 if you are needing an emergency relocation.
Mays Hill is a great place to move if you are needing a quiet and non-populated suburb where you and your family can relax in peace. If you have decided that Quick Move is in fact your best choice to relocate your home to Mays Hill, be sure to make a booking today! You can do this by giving us a call right now on 0487 399 669, or you can go to our online booking form where you can also receive a code discounting the price down by 5%! We are the ultimate choice for anyone moving homes within the entire Sydney Region, you will have no regrets booking with Quick Move.
Quick Move Proudly Servicing All Suburbs Within The Parramatta City