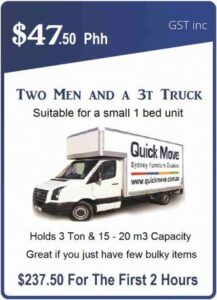 If you are looking for cheap and affordable furniture removalists Ingleside for your next move, then Quick Move is definitely the best option for you! There are no other moving companies that compare to Quick Move. We offer top-quality movers without breaking the bank. If you would like to know more about our amazing prices, give Quick Move a call today on 0487 399 669 and one of our staff members can give you a free moving quote over the phone!
Furniture Removalists Ingleside, Sydney NSW
Ingleside is a very nice area, the population is currently a low number only sitting at approximately 1000 residents. It is quite an expensive area to live in with the median house prices at $3,070,000.
Quick Move offers our professional removalist services for all-sized moves. It may be a large 6 bedroom home or just a few small items and boxes. If you were only needing a small relocation Ingleside then it is super quick and easy for you to organise a removalist. Our rates start at a low $45 phh for two men as well as a small truck!
Cheap and Reliable Home Removalists Ingleside
If you are thinking of moving in or out of Ingleside, then we believe that these services may be useful to you!:
Furniture Removalists Ingleside
Quick Move take extreme care when moving all of your items. We offer free moving boxes on the day or you can pre-order them before your moving date. We will wrap all of your items in padded furniture blankets for no extra charge and wrap your mattresses in plastic shrink wrap to ensure complete protection.
Internal Removalists Ingleside
Moving items around can be very hard for most people, and that is what Quick Move is for! If you have items that are just too heavy to manoeuver yourself then call us today. We offer an internal moving service and we can definitely help you with whatever you need!
Office Removalists Ingleside
Quick Move's most popular removalist service is home relocations, however large to small office moves come a close second! We have been doing office removals for many years now. Know you are getting top-quality, experienced removalists prepared to move whatever you need.
Last Minute Furniture Removalists Ingleside
Quick Move is a professional moving company that has amazing feedback and a 5-star rating. You can rely on our staff to always perform our best and provide a fantastic moving experience. However we cannot say the same thing to many other Northern beaches companies. Many have been known to completely abandon their customers and cut off all contact, if this has happened to you feel free to call Quick Move and weassist with a same day emergency move.
Reliable Furniture Removalists Ingleside
Those that are moving in or out of Ingleside have come to the correct page to see all the necessary information you need if you are moving homes with Quick Move. However, if you would like to move into another suburb and needing our services such as our furniture removalists Bayview, then we can definitely help you as we provide removalist services to the entire Sydney Region.
Ingleside is a very popular suburb falling under the Northern Beaches Council. This suburb is popularly known for the Sydney Baha'i Temple which is one of the most popular temples within the area, it can hold up to 600 people and has been used since the 1960's!
If you would like to use Quick Move for your next move to Ingleside then be sure to make a booking today! You can do that by giving us a quick call today on 0487 399 669 where our fantastic ladies in the head office can get you all booked in for whatever date and time you would like for your move! We promise you will not regret using Quick Move!
Quick Move Proudly Servicing All North Sydney Suburbs