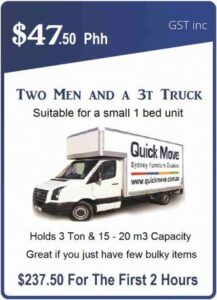 Are you looking for cheap Barra Brui removalists? Then Quick Move is the right choice for you. Offering a variety of services for the cheapest prices in Sydney such as home removals. Quick Move is Sydney's most popular Barra Brui removalist company as we offer the best services for extremely low prices. Residents here or those moving to this suburb can trust Quick Move. Because we take extreme care with every item we handle. We make sure we wrap all items in padded furniture blankets before positioning them safely into the truck. So there is no damage during transit, we will also complimentary wrap your mattresses in high-quality plastic wrap.
Furniture Removalists Barra Brui, Sydney, NSW
Office relocations & business event setups
We will relocate all of your business furniture with ease. And most offices are based in tall buildings. Unlike other movers, we do not charge extra for stairs/lifts.
Small Home Removals, and tiny relocations
We specialize in small home moves although we can move any size home. As we have all the truck sizes available to help as well as tools, trolleys, and dollys to assist.
Internal Removals, or two men and no truck
We will send as many men as you need for an internal move. And with no truck, if you just needed that extra muscle power.
Last-Minute Moves Are Welcome
we will perform emergency moves if needed. Because as we are aware other removalists nearby aren't as professional as Quick Move. And ultimately may leave you stranded or in the lurch.
Fridge & Appliance installments?
\We will relocate any appliances needed such as fridges, washing machines, dryers, etc, and install them into your new home.
Cheap Home Removals & Office Relocations Is Our Specialty
Barra Brui is a fantastic suburb for retirees especially because there are many useful, local facilities we are sure you will appreciate, e.g St Ives Shopping Centre is very close also just a short drive away. People who work in the city may also live here, as it is only a 26-minute drive from the Sydney CBD, and only a 40-minute bus drive if your own way of transportation isn't an option.
Quick Move is your best choice when you need a cheap removalist as we are your local and affordable removalists Barra Brui, contact us by calling on 0487 399 669 and our ladies in head office can tell you all about Quick Move and why we are the best choice for you.
Quick Move, The Most Reliable & Affordable Mover You Can Trust
Moving with Quick Move is bliss, we make sure we take every precaution to keep the job running smoothly, if unforeseen problems arise we have all the necessary equipment that will continue the job running smoothly. You will be glad to know that on the day of your move, your movers will have free boxes available for use if you need them, we will even help you pack and unpack said boxes.
Barra Brui is a great place to move and who other to perform your relocation other than Barra Brui's local removalists. Quick Move started off as a very small company only doing small eBay and Gray's Online moves, while we still perform these removals we also do all sorts of home, event, office, and many more removal services I'm sure you will appreciate. If you have any requests or questions please do not hesitate to call us on 0487 399 669. Contact us any time between 7 am to 7 pm on any day of the week and our helpful staff will happily book you in over the phone. You can also make a booking online by yourself to receive a 5% discount! Quick Move removalists Barra Brui are the best choice for you when moving homes, we guarantee a cheap and successful move.