Furniture Removalists Mortlake, Sydney NSW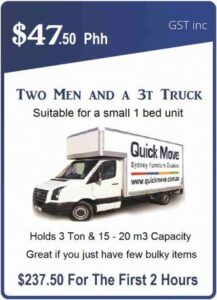 Those that are deciding to move to Mortlake are in luck as they have found the best company for the job! Quick Move's men have done thousands of furniture relocations and now have over 5 years of experience. If you were needing workers to relocate your delicate items, then Quick Move is the way to go! And our previous clients can definitely agree with this. Check out our customer reviews and you will see exactly what the people of Sydney are saying about us!
Mortlake is a great suburb in the Canada bay City Council located within the western suburbs of Sydney, previously known as Bottle Point. It only has approximately 1,063 residents and is a lovely welcoming little town. Many families say is a great suburb to call home and raise a family. This is because there is a local public school within the suburb. Which we are sure you will find quite convenient if you have a family with children!
There are no other companies you can even consider for your next move! Always choose Quick Move for a smooth, safe, and cautious service. Our men will even complimentary plastic wrap your mattresses, as well as completely cover all items in padded furniture blanket for free, and even provide packing boxes that you are welcome to use on the day of your move for no added charge! What a deal!
Reliable Home Removalists Mortlake
If you were needing furniture relocations, then we are sure you will be interested in reading this list! There are our most popular services for your area:
Small Removalists Mortlake
Quick Move specialises in small furniture relocations, as it is quick for us as well as the customer! All clients who book with Quick Move will have two experienced workers, as well as the truck size they desire, this option can be as cheap as $45 phh!
Event Set up & Removalists Mortlake
If you have decided to host a party or event that is meant to be filling with people and were needing chairs, tables, stage equipment, instruments, anything at all Quick Move will happily assist and urge you to leave it all up to the professionals. Quick Move will do any move!
Office Removalists Mortlake
Quick Move's men are ready to do whatever it is you need to ensure 100% customer satisfaction, whether that is to unplug equipment as well as remove all other equipment then that is completely up to you, all you have to do is ask and our staff will definitely help as they are here to make it easier for you, don't be shy to ask for what you need!
Two Removalists Mortlake, One Removalist Truck
When you choose Quick Move for your move you must be prepared for an amazing moving experience. We send out two men that will relocate and remove every single item for you, there is nothing we expect you to do but instruct us and sit back while the professionals do all the work.
Affordable Furniture Removalists Mortlake 7 Days A Week
Those that are moving to Mortlake must consider Quick Move, there is no way you could choose anyone else. Not only does Quick Move offer our services to this suburb, but we also offer our services to the entire Sydney Region! Therefore, if you were needing other suburbs then Quick Move can definitely still help you for whatever day you would like.
Mortlake is a lovely suburb right along the water. Meaning, moving into this suburb you will most likely be interested in waterfront homes. They are super nice and welcoming with amazing views of the water. There is even a Mortlake ferry that we are sure you will find quite convenient!
In conclusion, you will not regret choosing Quick Move for your next move. Make a booking with Quick Move today by simply going to our online booking forms. Once it is all submitted you will receive an email which will be your confirmation of your time and day of your move! Trust us, Quick Move is always the right move!
Quick Move Proudly Servicing All Suburbs Within The Canada Bay City