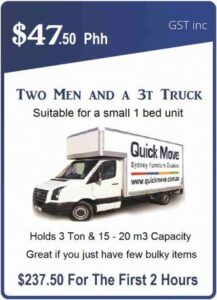 Firstly we promise low prices with our hardworking and qualified removalists Brookvale. Moving homes can be quite stressful. So when choosing Quick Move for the next move you are guaranteed a smooth and relaxing moving experience. Furthermore, we can get you all settled into your home without any stress. All we expect you to do is to sit back, relax and let your movers do all the hard work.
Furniture Removalists Brookvale, Sydney NSW
Secondly, Brookvale is a great place to move for those that are professional workers and live on their own. This is because the majority of the homes in Brookvale are small apartments and small 1-2 bedroom homes. The median house price for Brookvale is currently sitting at 1.2 million dollars as it is apart of the Northern Beaches Community with Manly Beach so close by.
Quick Move is the removalist in Brookvale for you if you are thinking of moving to Brookvale. Manly beach is not too far away being roughly 10 minutes. Contact us today by giving us a quick call on 0487 399 669 and our wonderful staff will provide you with a free quote over the phone today!
Affordable Home Removalists Brookvale Sydney
Therefore here is Quick Move we offer multiple relocation services to those that are wishing to move to Brookvale all for a cheap and inexpensive price, here are just a few of our most requested removalist services:
Two Men And A Truck Brookvale
Furthermore, Quick Move will take the best care when moving your items from A – B, and we will make sure they are all safe and sound during transit especially. This means we will cover all of your items in padded furniture blankets for no extra charge, our removalists can provide you with free boxes on the day of your move, and we will even complimentary plastic wrap every mattress we move for you, plus of course making sure every item is packed into the truck to not receive any damage during transit.
Office Removalists Brookvale
Office relocations are our top 3 of most requested removalist services throughout the whole of Sydney. Especially in suburbs surrounding Brookvale because of its close proximity to the Sydney CBD. Because just a 30-minute drive and you are at the Central Business District.
Small Removalists Brookvale
The majority of Brookvale's Homes are small with a maximum of 3 bedrooms. This is perfect for Quick Move as we actually specialise in small moves like this and have many trucks and men that will easily get this move all done quickly and professionally.
Last Minute Movers Brookvale
Some furniture removal companies you can not rely on for a last-minute move. After reading through other customer reviews and having countless phone calls. Calls from disappointed customers, we can definitely vouch that many are extremely unprofessional. Make sure you choose Quick Move from the start as we will never let you down.
Reliable Furniture Removalists In Brookvale Open 7 Days A Week
Fridge and heavy appliance delivery service are one of our very most popular and requested services. For starters, not only do we relocate your heavy appliances from A – B but we can also install them right into your new home. So all you have to do is sit back and let the professionals sort it out for you. Quick Move also has equipped hydraulic tailgate lifters onto a large portion of our trucks. Instead of carelessly laying your fridges and appliances down, we can place them safely standing upright and strapped for maximum safety.
If you are moving your family into Brookvale you will definitely love it. Because there are many things the kids and the adults can enjoy! For example, there is the ZONE Bowling Alley & Laser Tag just a quick 11-minute drive, this is a super fun activity the whole family can do and enjoy together!
Or you can make a booking all by yourself by simply filling out our small form online, you can also save more money by doing this as we provide a coupon code that will activate a 5% discount to anyone that makes a booking with Quick Move online!
Quick Move Proudly Servicing All Northern Beaches Suburbs Of Sydney