Furniture Removalists Rossmore, Sydney NSW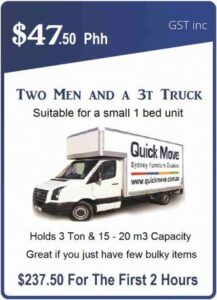 Welcome to the official page for Rossmore! Quick Move is the best moving company and should be your no.1 choice! There is simply no other company that can compare with Quick Move's low rates! Continue reading if you're looking for more information about us!
Rossmore is a small suburb in the Greater Western Sydney Region, residing within the Liverpool City Council as well as the Camden Council. This suburb is fantastic to move to as it has the Australian Koi Farm! The homes in the area are suited mainly for families with children, usually being mansions and very large homes with a lot of yard space, some even having acreage! The median house price is currently sitting at $3,325,000.
If you are moving to or from Rossmore, then Quick Move MUST be your choice of movers! We guarantee top-quality moves for cheap and affordable prices that will blow your mind! For example, we have a small moving service available for as low as $45 per half an hour! That is an extremely low and inexpensive rate that no other company can compare with. This is why Quick Move is your leading company! Give us a call on 0487 399 669 to get a free moving quote today.
Affordable Home Removalists Rossmore
Furniture Removalists Rossmore
Our Rossmore movers are one of a kind. We do all types of jobs ranging from fridge and heavy appliance services to event set up and relocations. Quick Move is not a company to compete with, as we have the lowest prices for the highest quality of furniture relocations. We are positive you will have the perfect moving experience with Quick Move!
Office Removalists Rossmore
Quick Move offers an exceptional service that no other businesses have even touched base on. When doing any furniture relocations we can move all of your items up and down stairs/lifts for no extra charge! Many other businesses take advantage of this and will charge up to $5 per step!
Home Removalists Rossmore
Quick Move will complimentary plastic wrap all mattresses that we move for you. We completely cover and wrap all items and padded furniture blankets for no extra charge and provide all the equipment such as tools for disassembling and reassembling! In case there are any unforeseen circumstances like height restrictions, your movers come equipped with trolleys, dollies, and any other necessary. We are professionals and we know what we're doing so you can always trust Quick Move!
Reliable Furniture Removalists Rossmore 7 Days A Week
We are sure you will be very surprised that we actually serve the entire Sydney Region! Contact Quick Move today on 0487 399 669 if you are looking for furniture relocators in your area!
Make a booking simply online today at any time you like through our website's online booking forms. We even have a discount code offering 5% off for anyone that books online! If you prefer to speak on the phone, then you can also get booked in with one of our staff by giving us a buzz on 0487 399 669. We have trained staff in the bookings department ready to get you all booked in! You will receive an email confirming all the details are correct and then, voila! You are all ready to go!
Quick Move Proudly Servicing All Suburbs Within The Camden City