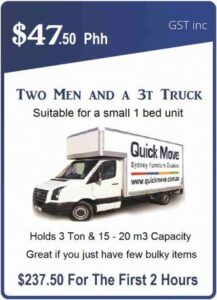 Quick Move offers removalists in Ashfield that can take care of your move with ease. You will not regret choosing Quick Move to assist if you are deciding to move to Ashfield. We are reachable 7 days a week from 7 am-7 pm! Furthermore, give us a call today on 0487 399 669 to discuss your future furniture relocations and get a quick quote!
Ashfield is a large suburb residing in the Inner Western Sydney Council area. With 23,841 residents already currently living in Ashfield. Living in Ashfield provides many opportunities for your career, family, and just basic leisure. Catering from the young uni student, through to the large family unit. Another great advantage is, it's just a 17-minute drive away from the Sydney CBD.
Furniture Removalists Ashfield, Sydney NSW
Firstly, Our guys have been trained to handle any sorts of problems or incidents in the workplace. We understand moving large items around a small apartment building is quite difficult however our workers have had at minimum 5 years of experience and can easily assist. Therefore, you will be extremely surprised with how professional our men maneuver your items around your Ashfield home.
It goes without saying that trying to find a parking spot or navigating through Ashfield's extremely narrow and thin roads is stressful. Please do not worry as Quick Move can make any sort of parking situation work. Of course, it would be a great amount of help if you were to try and organize a parking spot. Although, we come prepared with trolleys, dollies, and tools for disassembling/reassembling items. See our frequently asked questions page for a full list of questions we are regularly answering for clients.
Affordable, Respected, Honest & Hardworking Movers, That's Quick Move
Secondly, Quick Move is proud to say we have amazing friends and helpful staff that are always willing to help and to answer any questions you have. We are so proud of our company and how we have evolved over 10 years. Quick Move started off as just 1 man and a van, we now have over 19 trucks of all sizes and over 50 hard-working well-experienced men. Not to mention, we are one of the most popular and trusted businesses in the area of moving to Sydney. Quick Move has the best movers in Ashfield and all other suburbs in and surrounding Sydney. You won't regret choosing Quick Move!
Quick Move is a large business that has been in the industry for almost 10 years, and we are only getting better. We have serviced over 80,000 happy customers and have great customer reviews! You can feel confident knowing your big move to Ashfield is going to be orchestrated with care and professionalism. Other moving companies in Sydney won't know what's coming as we are on a roll! Getting a quote and Booking with Quick Move is super easy.
Quick Move Offers Free Packing Boxes For All Moves In Ashfield
Thirdly, we offer exclusive deals that we are sure you will be very happy to hear. We will protect all your mattresses with plastic wrapping for free! Our boxes are free for you to use on the day. However, you can purchase boxes for permanent use at a cheap price of just $3 a box.
Quick Move caters from single item deliveries to huge office/home relocations in Ashfield. We understand moving homes is stressful, but we make your experience care and worry-free! You won't need to do anything just sit back and let the professionals do all the work for you. All trucks come with at least 2 men, and if you need more don't worry, we can send out as many guys you need! Quick move is a trusted company by thousands. You're really grabbing a great deal going with Quick Move, learn more about us!
Quick Move, The Ashfield Removalists You Can Relay Trust & Rely On!
Lastly, no other company in Ashfield can compete with Quick Move, we are the cheapest movers by far. Our passion for 100% customer satisfaction is what paved our way to the top. Our number 1 priority is keeping your items safe and sound and keeping our customers happy and trusting. Moving homes can be incredibly stressful but we take on all work making sure we do it quickly and efficiently. Going with Quick Move for any move within Ashfield is the way to go. Booking with Quick Move is the best way to go!
Apply for a quote today by filling out your details on our online form and you can get a reply within minutes. Making a booking is just as easy all you have to do is take a moment of your time to fill out the questions and you will get a text message and confirmation email. This lets you know your move is all booked in and you can expect the guys to arrive on the date you selected.
Quick Move Proudly Servicing All Suburbs Within The Inner West City