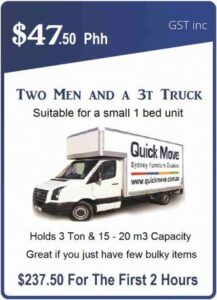 Quick Move is your local Croydon removalists offering you low-priced furniture removalist services and more. Croydon is a large suburb in the Inner West of Sydney and is announced one of the best areas in Sydney, it is currently rated 8th best suburb to live in Sydney. Firstly, this wonderful suburb has currently around 10,000 happy residents, most of which are those who work within the city and families with children. And the majority of Croydon's residents live in small 1-2 bedroom apartments or 3+ bedroom family homes. Secondly, Quick Move are the professional movers you can trust, we have a great amount of experience in this particular suburb.
Furniture Removalists Croydon, Sydney NSW
Therefore we have a well amount of knowledge regarding the homes and road circumstances, this helps us to know what to pre-pack for and be aware of upcoming issues, which your Croydon movers will always resolve. Furthermore, Quick Move can assist with anything and everything you need, whether it be a one-item delivery or a fully furnished 6+ bedroom house, our hardworking staff can move all of your items with ease. Call us on 0487 399 669 and we guarantee you a free quote!
If you are looking for the most honest, hardworking mover, then Quick Move is the company for you. We make sure we have no sneaky charges, unlike other movers, for example, we do not charge extra for stairs and lifts, nor do we charge extra for padded furniture blankets, this is a great deal you cant deny! Fortunately, Croydon is a very popular area under the Inner West council. Popularity is mainly due to the facilities and the quietness of the town, this is why it is perfect for families and professionals. Because as they do not have to deal with loud busyness like many other suburbs in Sydney. So we will happily move your home and items into your new home.
Quick, Honest & Reliable Removalists Croydon You Can Trust
Quick Move is your local and affordable moving company, offering the cheapest rates possible in Sydney. One of our most popular areas to move to, especially in the last couple of years as its population is growing insanely. Because many people have discovered It to be Sydney's best suburb. For many reasons including the local schools and facilities. We are offering unbelievable great prices to anyone moving to or from Croydon. Therefore you can expect the best when booking with Quick Move. If you would like to learn more about us, simply contact us any time between business hours and we can answer any questions or queries at all.
Home Furniture Removalists Croydon, Sydney With Free Boxes & Low Rates
Quick Move performs the highest quality, there is no doubt about that. As the number one furniture removalist, we must uphold that title and keep ourselves trained and hardworking. Furthermore, all of our Croydon movers have been trained exquisitely and even undergo extreme courses once a year to keep them qualified and ready to perform the best Croydon relocations possible. If you are looking for trustworthy and hardworking removalists then Quick Move is the right business for you.
Every removal receives the usual two men and the truck size of your choice, although if you just need the muscle power then you have the option to hire however many men you need with no truck.
Quick Move, The Croydon Removalists That Won't Break The Bank! Or Your Items:)
Quick Move offers a range of inclusions when booking with us. These include: Free boxes on the day of your move, yes you read that right. Unlike all other companies, we supply free boxes and will even help you pack and unpack said boxes, all you have to do is ask! Quick Move has no problem disassembling or reassembling items when needed, this is why have stated in our inclusions we can help with this, if you are unable to do so before the move that is absolutely no problem for us as it is what we do after all 🙂
Croydon is not a particularly expensive area in Sydney which is another reason why it is a very popular place to move to. The median house price is roughly sitting at $700,000. We are the number one leading removalist by far, with our shockingly low prices matched with our amazing services there is no reason to choose any other movers.
Office Removalists Croydon, Serving Local Businesses With Full Relocation Solutions
Quick Move does much more than just house removals, we can do anything you need. Whether that be, restaurant relocation, concert equipment, events such as markets, and festival equipment, we simply do it all. Croydon is a very popular suburb mainly because of the close proximity of the Sydney CBD as it is only 23 minutes in a car or if you would rather public transport than it is only 35 minutes from the railway station.  Although, one of our most popular moving services is, office relocations. We perform high-end relocations and removals, we can relocate your desks, chairs, machinery, even the long meeting tables, we do it all. You'll be glad to know that we also do not charge extra for stairs and/ or lifts so no need to worry if you need items relocated up and downstairs there is no extra charge.
Make a booking now with Quick Move over the phone with our wonderful staff on 0487 399 669 and we guarantee after talking with us you will want to choose us for your next move. You can also make a booking online and you can even receive a 5% discount if you do, just enter the code, and then voila you have just saved yourself even more money! You'll be glad to know, not only do we do relocations, but we also do all of the inner western suburbs including Ashfield, another one of our most popular areas to move. Quick Move is your recommended Croydon removalist and our customer reviews can agree.
Quick Move Proudly Servicing All Suburbs Within The Inner West City