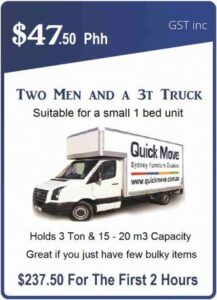 If you are looking for cheap removalists Wollstonecraft, then you have come to the right place! Quick Move is your local and affordable furniture removal company that is available 7 days a week. We can get you all sorted and ready for your move on whatever day you would like, all you have to do is give us a quick call today on 0487 399 669.
Furniture Removalists Wollstonecraft, Sydney NSW
Wollstonecraft is a very high-end area of Sydney that many people would love to live in. Usually, the homes in this area are quite small ranging from 1-2 bedroom apartments. However but are modern and have amazing views from those apartments that are quite high up. The median house price for Wollstonecraft is currently sitting at $2,924,079. This suburb is very popular and located under the North Sydney Council in the Northern suburbs of Sydney.  Therefore you will be very lucky to find a suitable home in Wollstonecraft for an affordable price.
Wollstonecraft is an amazing suburb to live in. Who better to move you than their very own local movers. Our employees have a large amount of training in this particular area. Therefore we have performed thousands of all different types of moving services. If you would like to know what service is best for you, all you have to do is call Quick Move today on 0487 399 669. Our friendly staff will happily provide you with a free moving quote over the phone! So you can see just how amazing our prices really are :).
Reliable Home Removalists Wollstonecraft Sydney
If you are wondering if Quick Move can provide the right service for you, then don't stress! We definitely can help you. In particular, we offer our Wollstonecraft services to the whole Sydney region. Maybe our North Sydney removalist services will be better for you, here is what we offer:
Furniture Removalists Wollstonecraft
Quick Move offering professional furniture removals in Wollstonecraft for cheap and inexpensive rates you can't ignore. We will cover all of your items in padded furniture blankets for no extra charge. And we supply free moving boxes on the day of your move, and we even will complimentary wrap all of your mattresses.
Last Minute Furniture Removalists Wollstonecraft
We understand that other businesses cannot be as professional and hardworking as Quick Move. Although it is completely unacceptable to leave the customer with a poor moving experience, some removalist companies in Wollstonecraft don't turn up at all.
Office Removalists Wollstonecraft
Quick Move the best rates throughout the whole Sydney region. So if you are needing, professional, hardworking, and reliable movers for your next large or small office move Wollstonecraft, Quick Move is ready to help.
Internal Wollstonecraft Removalist Services
Quick Move offers many removalist services for those needing assistance in Sydney, although one of our most popular and more needed services is our internal removalist service. This is because you can hire as many men as you need to relocate your heavy items, all for a cheap price.
Affordable Furniture Removalists Wollstonecraft 7 Days A Week
If you are looking for a fridge and heavy appliance delivery, then Quick Move is here and ready for your call. Our movers have moved thousands of heavy appliances and now know all the tips and tricks to make sure the item is kept safe. For example, we have installed hydraulic tailgate lifters to make sure the guys keep the heavy appliances stood up and strapped to the side of the truck which is considered the safest way. Not only do we deliver these appliances to wherever you need them to be.
Wollstonecraft is a great place to move as there are many local facilities as well as local activities that everyone can enjoy. For example, it is very convenient for those that need to travel regularly as there is the local Wollstonecraft Train Station just there. There is also a free BBQ being held at Wollstonecraft Park just in December, free food!
If you were wishing to book with Sydney's best removalists, Quick Move is your best bet. Make a booking online and save even more money as all that choose Quick Move by filling out our online booking form receive a discount code, offering a 5% discount upon purchase. Or you can call us today on 0487 399 669 and our removalists will get you all booked in for you over the phone.
Quick Move Proudly Servicing All North Sydney Suburbs