Furniture Removalists Alexandria, Sydney NSW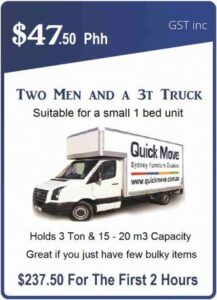 Quick Move offers incredible services you can't miss. We are Sydney's most popular, well known and trusted removalist company in Alexandria. We assist all of Sydney, providing customers with the best possible rates. Quick Move provides the most experienced and hard-working men who will do a fantastic job! You can trust Quick Move to make your moving experience relaxing and worry-free. After thousands and thousands of happy customers from movers, we can be titled the most professional and efficient movers.
Alexandria is a small suburb residing in the City of Sydney There are currently around 4000 residents, the majority of which are single living, couples and small families. The homes in Alexandria are mainly small units, studios and townhomes.
Firstly, luckily for you Quick Move specialists in small moves such as those in Alexandria. Quick Move can do anything! We have an immense amount of experience in the moving industry including setting up events and other unique services. Quick Move is the best choice for those moving in or out of the suburb, there's no argument against that! Just by answering a few questions, you can receive a quick quote within minutes to determine which size truck you need. If you would like to secure service with the best movers in town. Hire Quick Move for the job!
Budget Home Removalists Alexandria
Secondly, our workers have moved thousands of people in and out of Alexandria. Your items will be moved carefully and packed safely into the truck to ensure they will not be damaged during transit. Quick Move must be your first choice for movers. Our movers have been had immense training a minimum of 5 years of experience, not to mention our 10 years of being within the removalist industry. Therefore, we simply are the best in the industry and a lot of our fantastic reputation is from our friendly staff. . We also have some very welcoming voices to hear when you call Quick Move. Whether you are calling to book in or just ask a question our friendly staff will happily help.
Thirdly, we offer free moving boxes on the day you move with us! Be glad to know you can use however many boxes needed for FREE on the day of the move. Although, if you would like to purchase these boxes permanently it comes at an extremely low price at just $3 a box! Quick Move has to be the way to go, we offer the all-around best services in Sydney. Hence, why we are the most popular and well-known movers simply because we are the best. We have thousands of customers that are extremely pleased with our affordable rates and professionalism. Quick Move offers a range of deals, including free plastic wrapping on all of your mattresses. We take into consideration the safety of your items and we will do anything to keep your furniture undamaged.
Affordable Furniture Removalists Alexandria 7 Days A Week
Lastly, Quick Move caters to all, we will move anything requested. That includes event equipment, market tents, concert equipment, machinery in restaurants and more. There is nothing that will steer away our movers, we are happy to assist with anything you need us for. Every move you book with us you will receive 2 men and a truck. Although, do not worry if you just need the muscle you are able to hire however many men you need for the job without a truck!
Finally, moving to Alexandria is easy with Quick Move. Our main priority is to keep our customers' trust and 100% satisfaction. We will do anything to make your moving experience as quick and carefree as possible. Call us today on 0487 399 669 to book with Quick Move! Or you can easily make a booking online via our website :).
Quick Move Proudly Servicing All Suburbs Within The Sydney Inner City