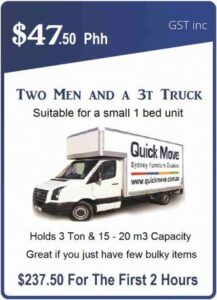 Quick Move is a professional removalist company you can trust and rely on. Thinking of moving into Lane cove? We can guarantee you will be making the right choice by booking with Quick Move! Give us a call on 0487 399 669 today for a free quote!
Lane Cove Council district is on the north coast of Sydney, with over 10,000 residents you could say it is quite popular. The majority of Lane coves housing are small 1-2 bedroom homes or units. This is perfect for small families, couples, or single living.
Furniture Removalists Lane Cove, Sydney NSW
Firstly, Quick Move mainly operates around Lane Cove and had an extensive amount of experience in the area. We also assist with markets and other event relocations. Anywhere you need our movers, we are happy to help! If you just need the manpower for an internal house move. Then do not worry we can send however many guys you need to assist! Quick Move is definitely the best choice if you're searching for a local moving service in Lane cove. Check out our customer reviews online to see more about us!
Experienced, Professional & Trustworthy Workers, That's Quick Move!
Secondly, Quick Move makes it super easy to relocate on a budget. Our expectations of our workers at Quick Move are extremely high. We only hire the best of the best! All of our workers must have a minimum of 5 years' experience in the industry. So, be glad to know that our movers can be trusted and they will take extreme care of your items. Quick Move offers a large range of specials and deals when moving with us. This includes free mattress wrapping on all mattresses in the move and free boxes to be used on the day! If you would like to purchase them for permanent use, they come at a cheap price of only $3 a box! You can contact us and learn more about our rates and deals at 0487 399 669.
Additionally, Quick Move is the cheapest home furniture moving service in Lane cove by far. Our low rates and customer satisfaction policy make certain that you only have the best movers! We have an extensive amount of experience in lane cove therefore, know about the horrible parking situations! It's incredibly hard to snatch a good parking spot almost anywhere but we assure you we will improvise and always find a way. The 2 men and the truck come with necessary equipment such as trolleys, dollies, etc to make the move as safe as possible.
Reliable, Respected Furniture Removalists In Lane Cove, Open 7 Days A Week
At Quick Move, we thrive on doing moves for any type of business whether it be restaurants or small office moves. Businesses in the Sydney CBD choose Quick Move over other movers for quite a few reasons. We will relocate all business furniture, there is no limit! This also includes long boardroom tables which many other companies will refuse to relocate. We have serviced over 80,000 happy customers in Sydney. Quick Move's number 1 priority is keeping the customer happy and satisfied with the move. You will not regret choosing us!
Thirdly, Lane cove is one of the best suburbs in Sydney and who better to get you there than us!? We don't have any sneaky charges! Meaning, GST is included, there is no added fee for stairs, no fuel levies, and no back-to-base charges! Other movers can charge up to $5 a step! Quick Move will not take advantage of the trust you put in us. We take the extra step with assembling and disassembling any items needed for our clients! We are at the top of the industry, there is no one but Quick Move that can provide you with the services you need!
Finally, you simply can't choose a better choice to move your home than your Quick Move. Quick Move, is the right move. This is why you should definitely make a booking with us today! You can do so online by filling in our forms via our website. Or you can give us a call on 0487 399 669 and one of our helpful staff members can organize a relocation service for you over the phone!
Quick Move Proudly Servicing All North Sydney Suburbs