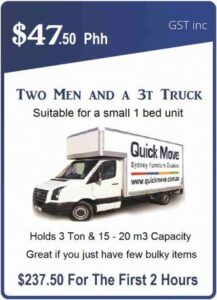 Are you looking for cheap removalists Beacon Hill? Then Quick Move is the best choice for you! We offer inexpensive prices for experienced and qualified men who will perform even the hardest moves with ease. Our cheap movers have been in the industry for over 10 years now. They have been put through immense training courses to prepare for all hard moves. Give us a call on 0487 399 669 for a free moving quote.
Reliable & Furniture Removalists Beacon Hill, Sydney NSW
Beacon Hill is a small suburb with around 8000 residents. It falls under the Northern Beaches Council in North Sydney. Quick Move has done tens of thousands of moves, especially in North Sydney. So, we have a great amount of experience in Beacon Hill. If Beacon Hill movers aren't what you were looking for. Check out the areas we service online to see if we can help you.
Quick Move makes sure that every move we conduct is done to the best of our abilities. We will complimentary wrap all of your mattresses, as well as cover all of your items in high quality, padded furniture blankets! This keeps everything we move, safe during transit. We also offer free boxes on the day of your move, and can even help pack and unpack said boxes! You can contact Quick Move and ask any questions you may have about us. Or check out or FAQ page or customer reviews to have a browse online.
Affordable Furniture Relocators In Sydney 7 Days A Week
Office Removalists Beacon Hill
Firstly, you can expect hardworking and reliable movers to relocate all of your business furniture with ease. We provide free packing boxes to ensure a quick and safe move. And, we can even relocate difficult items like long boardroom meeting tables. Many other companies refuse to do!
 Furniture Removalists Beacon Hill
Secondly, Quick Move's guys are prepared for all sized house moves. We come prepared with trolleys, dollys and tools to assemble/disassemble items. Whatever it takes to continue the job running smoothly. There is no better choice than Quick Move, and that is certain. 
Appliance Instalments & Removalists Beacon Hill
Thirdly, Quick Move will relocate all appliances as well as install them into your new home. Including, fridges, washing machines, dryers etc. We can do this for you as safe as possible using our hydraulic tailgate lifter. Something many other movers do not have.
Event Setups & Removalists Beacon Hill
Finally, Quick Move can help with any sort of event relocations! e.g we will relocate concert equipment, market tents, weddings, engagement parties and many more. No matter what you need, our cheap relocators can definitely help you :).
The Cheap Furniture Removalists Beacon Hills You Can Depend On
Quick Move is the only company you can really trust. Our prices are cheap and affordable, while our services are top-notch. No other company could compete with us. As professional movers, we strive to make everyone's moving experience smooth and carefree. We have a large range of trucks starting at a typical Ute to a very large 12-14 tonne truck. Luckily for those who have large 5+ bedroom homes, we will still very easily be able to assist.
Beacon Hill is the perfect place to move if you are a growing family. It is quite a small and quiet suburb in Sydney. There are many things to do for kids and adults in Beacon Hills such as Governor Philip Lookout. This gives beautiful views of the northern beaches in Sydney! If you were needing our movers for another suburb such as furniture relocations Northern Beaches. Then Quick Move can definitely still help you as we provide services to the entire Sydney Region.
Our company operates all year, every day, from 7 am to 7 pm. So, please do not hesitate to call us on 0487 399 669 today! Our staff will happily book you in for a cheap price you can't refuse. Even though our prices are already inexpensive you can also receive a 5% discount by making a booking online. So, if you are looking for cheap movers, Quick Move's professional removalist services are for you!
Quick Move Proudly Servicing All Northern Beaches Suburbs Of Sydney