Furniture Removalists Kingsgrove, Sydney NSW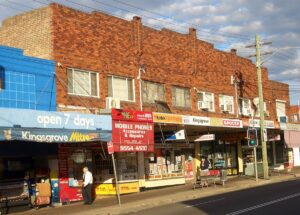 If you have been thinking of moving in or out of Kingsgrove and are in need of cheap f movers to safely yet quickly relocate all items to new home, then Quick Move is your best choice! Quick Move has endured in thousands of home and office moves, leaving all of our workers in great shape and a significant amount of experience. You can trust Quick Move! Give us a call today on 0487 399 669 for a free moving quote today!
Kingsgrove is a large and populated suburb in the South of Sydney, crossing lines into all councils, The Bayside Council, Canterbury – Bankstown Council, and the Georges River Council. This suburb has many local facilities that we are sure you'll find convenient. For example, The Kingsgrove Day Hospital is always lucky to be nearby. There is also the railway station which is super useful, especially for those that rely on public transportation.
Quick Move is always the best choice if you are looking for cheap movers. If you were in need of another suburb, then Quick Move can most definitely help! Not only does Quick Move help those in need of Kingsgrove, but we service the entire Sydney Region. Give us a call on 0487 399 669 to discuss more about the areas we service in Sydney.
Affordable Home Removalists Kingsgrove
Furniture Removalists Kingsgrove
Quick Move's men are the professionals you can actually trust moving your items to or from your home in Kingsgrove. We will complimentary plastic wrap all mattresses, cover all items in padded furniture blankets, and we even provide free moving boxes on the day of your move for loose and/or fragile items.
Last Minute Removalists Kingsgrove
Quick Move is always happy to help. As a business competing in the industry, we are aware of our competitors flaws, many companies have repeatedly proved they are unprofessional and not trustworthy. This has been shown by leaving their customers stranded on a regular basis. Quick Move can organise a last minute move for anyone that has experienced this by other companies.
Office Removalists Kingsgrove
If you are in need of professionals to relocate your business furniture to your new office in Kingsgrove, Quick Move is the best choice for you. We will happily relocate all items you have including, long boardroom tables, heavy machinery, as well as electronics and of course your basic business furniture like desks, chairs and cabinets.
Fridge & Other Heavy Appliance Deliveries Kingsgrove
If you have recently purchased a new fridge or any other appliance from stores, Quick Move is your best choice. Not only will our men deliver your items straight to your door, but we can also install them!
Reliable Furniture Removalists Kingsgrove 7 Days A Week
Customer feedback is a very important factor in a business's reputation. Therefore, We encourage all of our clients to give us their thoughts on our services!  You can check out our customer reviews today if you are thinking of moving with Quick Move but needing that extra push over the edge.
This suburb is the perfect area to move to for those looking for small homes. This is because majority of the homes are small apartments in high buildings! The median house price for Kingsgrove is sitting at $1,161,000.
Make a booking with Quick Move today by giving us a call on 0487 399 669 to get you all booked in quickly for the date and time is best for you. You can also book in using our online booking form via our website! You will not regret booking with Quick Move.
Quick Move Proudly Servicing All Suburbs Of The Bankstown City