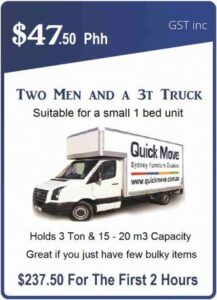 Local movers, that are always available for service? That's Quick Move! Quick Move is the company you should choose when moving homes in Sydney. We are the most professional and efficient in our work and the best choice for you. Quick Move does a wide range of work each week so we very well know our way around. Our removalists Allambie Heights are here to make your moving experience the best it can be!
Furniture Removalists Allambie Heights, Sydney NSW
Allambie Heights is a lovely suburb with over 8000 residents, residing in the Northern Beaches Council. It seems to be quite a popular area in Sydney especially for families as the homes are usually large homes. Our 8-10 sized truck would be perfect for the majority of the homes in the area and we will make sure that everything fits perfectly for only one run! Allambie Heights has many great things that everyone can enjoy. 
1.5 million is the current median house price for this suburb. Many people choose Allambie Heights for their new home due to being so close to the city. Only a 46-minute drive and you're right in the most popular area in Sydney. There are other ways to travel around Allambie Heights. For example, this suburb has many buses driving around that can take you anywhere! A more popular way of transport these days is services like Uber. Quick Move gives you amazing service at an amazingly cheap and inexpensive rate. Check out more about us and we are sure you will decide to go with Quick Move.
Quick Move, The Trustworthy Sydney Furniture Removalists!
Allambie is an aboriginal word meaning "peaceful place" and that is why they named the suburb Allambie Heights. Another cool fact is the streets in town, are named after notable battles! Firstly, Quick Move simply offers the best removalists Allambie Heights in all of Sydney. We are here to help you along the way, and will happily assemble/disassemble any needed furniture for you. Our men will also help pack your boxes if you need the extra help. Quick Move comes prepared with a few boxes in the truck if you need them! We call that a darn good deal!
This suburb is a great area for your family. There are parks such as the local oval where the kids can have a fun time with soccer or football! It's perfect for a nice day in summer to grab some hot chips from the fish and chips shop! For families, there are two local public schools and high schools within the suburb. Secondly, Quick Move has actually moved a few large moves in the schools! Quick Move provides amazing service and all sorts of moves without breaking the budget. You can check out our amazing customer reviews online today. They will assure you just how great our services are.
Thirdly, Quick Move will happily take on the challenge and move any item you need! Our men are qualified for all moves with over 10 years of experience. Allambie Heights is only a 5-minute drive from Manly which gives you some amazing benefits! For example, Manly beach is one of Sydney's best beaches, perfect for a nice summer day. Quick Move Now has over 70 staff and 30 trucks!
Affordable Home Removalists Allambie Heights 7 Days A Week
Subsequently, we can do quotes and make bookings over the phone for you from 7 am-7 pm every day! Therefore, all you really have to do is sit back and wait for the professional movers to relocate the items needed. Quick move can provide free boxes on the day of your move. Or you can purchase them for just $3 each to use them for pre-packing. Quick Move does all sorts of moves and will happily get you into your new home in Allambie Heights. Navigating through our website is very easy but to make it easier you can get a quote online today! Simply by filling out a small form with your details and you can expect a quote reply in no time!
Quick Move should 100% be your proffered choice of movers when moving to Allambie Heights. Our men have moved over 80,000 customers over our 10 years of experience in the industry. Allambie Heights is a very popular suburb in Sydney that many people would kill to move to. The homes are very nice and modern and the community is extremely friendly. All reviews of Allambie Heights have explained deeply why this particular suburb is definitely worth moving to. And, who better to move you than Quick Move! Your local and professional moving company, here for your every need.
Finally, Quick Move has made it super easy for customers to make a booking online. We even allow customers to get a 5% discount by booking online!. However, our phones operate from 7 am to 7 pm every day so feel free to give us a call on 0487 399 669. We will organise one of our staff to book you in over the phone today! Now all you have to do is sit back and wait for the professionals to take on the hard work.
Quick Move Proudly Servicing All Northern Beaches Suburbs Of Sydney