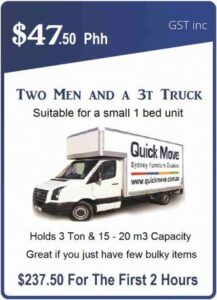 Balgowlah is a fantastic area to move and who better than their very own local moving company? Quick Move the trusted removalists Balgowlah, very well known and popular within the community. Doing moves almost every day and having thousands of customers over our 8 years of our business. A quite populated suburb within the Northern Beaches council district, with over 8000 residents it is quite busy. Luckily for those moving to Balgowlah, Quick Move specializes in small house moves!
This suburb is one of the most popular in Sydney! Therefore, we get quite a lot of jobs in the area especially moving towards considering how great the suburb is. Just a 30-minute drive and you could be right in the heart of Sydney! Where you have endless opportunities and so many things to do for fun.
Furniture Removalists Balgowlah, Sydney NSW
Quick Move is so easy and flexible, just as easy as answering a few questions and you can get a quote within minutes, or to make a booking just take a moment of your time to fill out an online form then you can expect a great team for the day you choose to move.
Balgowlah's name official meaning of the name is North Harbor because of its position and distance from Port Jackson. Quick Move has a fantastic reputation that we need to withstand. Since our first establishment in 2011, we have been on the lookout for experienced and hard-working men, throughout these years we have found an extraordinary amount of men. 50 hard workers, all of which with immense training and years of experience before Quick Move.
Furniture Removal, Home Movers, Office & Delivery Solutions
Moving is easy and carefree with Quick Move! A service where you will enjoy and be able to relax, trusting the professionals. We have serviced over 80,000 customers all throughout Sydney and all have been satisfied at the end of their move. You can scroll through our customer reviews and really see for yourself just how amazing Quick Move really is. Balgowlah has a huge variety of facilities such as schools there are primary schools, high schools, all boys and girl schools AND religious schools, all fantastic schools for your little ones.
Movers in Balgowlah, Furniture Removalists With Cheap Rates
Quick Move has to be the first company that comes to mind when you think of moving. All items will be moved safely and quickly thanks to our men. Balgowlah has some amazing events for people of all ages such as The BBQ street cafe! sounds delicious. After Quick Move has moved your furniture in we don't just stop there we will assemble or disassemble any furniture needed. Wondering what our rates are? only the cheapest, most affordable in Sydney! You really get a bang for your buck when you're using Quick Move as your movers.
We have experienced, well-trained, and hard-working men who will supply and give our service to anyone in need. You can contact our wonderful staff at 0487 399 669 where you can ask any questions and we will happily answer. Reading more about us will definitely persuade you to book with Quick Move, as we are the best movers in all of Sydney.
Cheap Removalist Balgowlah, The Reason Why We Move The Most
Quick Move is the best choice for those who need to move. We specialize in smalls moves like the majority of those in Balgowlah. Quick Move does a range of deals and specials for those who book with us such as free plastic wrapping on all of your mattresses in the move PLUS free boxes to be used and returned on the day, these are just a few of the benefits that come with booking with Quick Move. Everyone that books with Quick Move receives 2 men and a truck and if you just need the muscle no worry you can hire however many men you need.
Quick Move first started out with just 1 man and a van, a tiny business, but with hard work and commitment, we are now one of the most popular movers in the whole of Sydney with over 20 trucks and 80 experienced and well-trained employees. You can trust Quick Move to make your moving experience care and worry-free. You can contact us at 0487 399 669 and our friendly staff will happily answer any questions you need answers to, you can also answer a few questions and can grab a quick quote or make a booking. Quick Move makes it extremely easy to navigate through our website especially when booking online and getting a quote.
Quick Move Proudly Servicing All Northern Beaches Suburbs Of Sydney