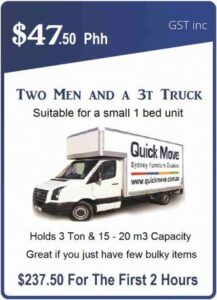 If you have been on the lookout for cheap and inexpensive furniture removalists in Northwood that can completely relocate all items you need, then look no further than Quick Move. Here, our main priority is to keep our customers happy and satisfied, so there is no need to worry about Quick Move. You can contact us any day of the week from 7am – 7pm on 0487 399 669 and our helpful office ladies can tell you anything you may need to know about us.
Furniture Removalists Northwood, Sydney NSW
Northwood is a great suburb to move to in the Northern Suburbs of Sydney, falling under the Lane Cove Municipality with now just over 980 residents. This suburbs median house price is quite expensive sitting at a whopping $3,156,000. However, many people believe that the price is worth it as the homes are large and modern with wonderful water views!
We are the only furniture removalists you can really trust. Many other furniture movers have been known to be quite unprofessional and not provide the correct services. However some may not even arrive at their job. If this has happened to you and you were needing last-minute/emergency movers, then give us a call today on 0487 399 669.
Affordable Home Removalists Northwood, NSW
If you were on the lookout for cheap removalists Northwood, then here is a small list of Quick Move's most popular services we believe you will take interest in:
Furniture Removalists Northwood
We can successfully relocate your heavy and/or fragile items. Quick Move's furniture removalist team is the best choice for you. We will completely cover and protect all items in padded furniture blankets. And we will even provide free packing boxes on the day of your move.
Office Removalists Northwood
Quick Move offers office furniture removalists services in Northwood. So if you need to relocate your office furniture we can definitely help you. We have all the equipment such as trolleys, dollies, and tools to disassemble / reassemble items from your office.
Small Removalists Northwood
If you were needing just a few small items moved here and there or just a small 1 bedroom apartment. Then Quick Move's men are the guys you need. Our men will relocate any sized homes while always providing you with a cheap and inexpensive rate.
Reliable Furniture Removalists Northwood 7 Days A Week
If you are needing a cheap removalist for your next move, then you have come across the right page. Learn all the information about us and the services we provide in Northwood. However, unlike many other furniture removalists in the Northwood area, we offer services to the entire Sydney Region.
Northwood is an amazing suburb to move to for families with children. This is because there are many fun things to do as well as local facilities. Thus making it easier for everyone to get what they need quickly, these include Lane Cove Market Square. The Lane Cove Aquatic Leisure Center and Greenwich Hospital which is just a quick drive away.
If you have decided that Quick Move's removalists Northwood are the best choice for you, then you can easily make a booking online today by filling out our online booking form. When booking online you also have access to a 5% discount we guarantee no other removalists Northwood offer. You can also book in with us over the phone with our wonderful office ladies by giving us a call on 0487 399 669.
Quick Move Proudly Servicing All Suburbs Within The North Shore