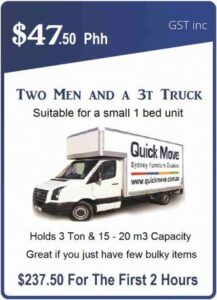 You must hire Quick Move for your move to Putney. There is no doubt about that! We offer the lowest prices that you cannot ignore! No matter how big or small your move may be Quick Move always offers our lowest price that won't break the budget. Contact us on any day from 7 am-7 pm and our staff will happily give you a free moving quote over the phone!
Putney is a great area to move to in the City of Ryde, within the North-Western Sydney Region. This suburb is perfect for people of all ages with local schools such as Putney Public School & Putney Playground Kindergarten which we are sure parents with young children will find super convenient!
Furniture Removalists Putney, Sydney NSW
Quick Move is the obvious best choice for many reasons, for example, we provide all of the information about our services online that you are able to see at all times. We have a FAQ page for quick answers and we are sure you are itching to check out our customer reviews! If you have any other questions or inquiries about anything you cannot see on our website you are very welcome to give us a call today on 0487 399 669 and our staff will happily help you.
Reliable Home Removalists Putney
Furniture Removalists Putney
Quick Move is happy to help anyone in need of moving. No matter how big the move, we are here for you! Our men will professionally relocate all items as safe as you could possibly get during a move. We will even completely cover and wrap all items in padded furniture blankets for no extra charge!
Internal Removalists Putney
Quick Move offers our services to anyone in need, no matter the circumstances. If you were just needing some extra muscle for internal services, then our men can definitely help you with that. We also have a special deal! That is we will not charge extra for stairs/lifts. Even though other companies can charge up to $5 a step!
Office Removalists Putney
Those that are in need of cheap, high-quality, and trustworthy movers for their move must book with Quick Move! There are many reasons why Quick Move is the ultimate choice. We will move all furniture no matter how big or how small! Our men bring along the necessary equipment such as dollies, trolleys, and tools to assemble and disassemble any needed items. Our workers even bring along free packing boxes you can use on the day!
Event Setup & Relocations Putney
Those looking for workers to help along with setting up an event, Quick Move's workers are your go-to men. Quick Move has men you can trust for your event setups as we relocate all items for all sorts of events! Such as Weddings, Concerts, engagement parties, markets, and many more! There is nothing Quick move cannot do for you!
Affordable Furniture Removalists Putney 7 Days A Week
Those that have been looking for another suburb, we can most definitely help you as well! This is because, unlike many other companies, we service the entire Sydney Region! If you would like to know more about the areas we service, feel free to give us a call today on 0487 399 669 and we will definitely let you know whether or not we can help you.
Putney is a lovely suburb to move to, especially for families with children as there are many family fun activities within the area we are sure you will definitely enjoy, these include the Kissing Point Wharf & Park, where there is an awesome playground for the children as well as a small swimming area classified as a beach that we are sure you will love on those hot summer days!
Quick Move has made it super duper easy for anyone to make a booking today! There are two ways, you can simply give us a call on 0487 399 669 where one of our staff will get you all booked in over the phone. Or you can make a booking online via our booking forms on our website which will take you no longer than a couple of minutes!
Quick Move Proudly Servicing All Suburbs Within The Ryde City