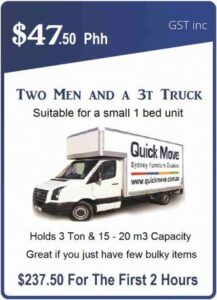 Quick Move offers an assortment of removalists Chatswood services, we are the cheapest and more affordable choice for those moving to this beautiful suburb. Firstly, Quick Move, as a company of many services, operates home and office removals in Chatswood 7 days a week. Another with no extra fees for weekends or holidays. This is perfect for those of you who are moving to Chatswood. You have the option to choose Sydney's most popular removalist company.
Furniture Removalists Chatswood Sydney, NSW
If you are moving to Chatswood then you are in for something! Professionals and single livers will enjoy this place far more than others as there are many options and opportunities. We assure you every relocation receives the best service possible. Quick Move offers the lowest prices for exclusive and experienced moving services. Do it right and get a quote with us now and you can see for yourself just how inexpensive we are.
If you are moving to Chatswood or surrounding suburbs then Quick Move is the Chatswood removalist company for you. Our company offers a variety of deals and specials all throughout the year. We are always changing them to make them unique and help customers save more and more money. Continuing, one of our recent additions to the deals and specials is free boxes, yes you heard that right.
Locally Owned & Operated, Providing Affordable Rates For Moving
Our company offers free boxes to anyone who books with us. We supply boxes on the day of your move so we can even help you pack and stack! We are your local and affordable Chatswood removalists, you will be glad to know Quick Move does not partake in any sneaky charges and shortcuts. Lastly, this is to provide all of our customers with the best moving experience possible. Our charges are affordable and more importantly, out for you to see. You won't get any sneaky charges, our inclusions are GST, Fuel Levys, Back to Base charges, and of course, stairs and lifts.
Chatswood Removalist Offering Free Boxes & Plastic Wrap On All Mattresses
We completely understand why you would want to move to Chatswood, it's an amazing suburb! This town has a huge amount of varieties and opportunities for everyone. After you are all moved into your new home in Chatswood there are many fun and entertaining activities to do, especially the Chatswood Golf Club. It is one of Chatswood's most loved facilities. Therefore, residents have rated the course a whopping 4.7 stars on Google!  Quick Move is your local and professional Chatswood movers, make a booking with us simply by filling out this small form. Or you can contact us by calling in on 0487 399 669 for a quick chat with our wonderful staff 🙂
Removalist In Chatswood With Experience, We Are Hardworking Men That Will Take Extra Care!
Hire Quick Move as your affordable and low-priced Chatswood removalists that are genuine and trustworthy. We guarantee you will not find anyone better than Quick Move. Chatswood is known to have some of the most delicious eateries in Sydney. Being Chatswood's furniture removalists we know the suburb inside and out.
Local, Reliable, Friendly & Fast Movers In Chatswood, That's Quick Move
Our removalist company is very well known in the area of, majority of residents who have decided to move to the suburb has chosen us to move their home, and have been very happy with our service. Another great place to visit after your move is the Chatswood Mall. This shopping center is quite large and has some exceptional stores, there is also a food court which comes in handy! Chatswood, like many other suburbs in Sydney, very multicultural, this is a great thing as not only will you meet people of all cultures but there are many traditional dining restaurants which have mouth-watering food.
Furniture Removals Service In Chatswood, Both Home & Offices, We Relocate Families & Businesses
Quick Move is extremely experienced in the high-rise buildings in Chatswood and again, we won't charge extra for stairs or lifts! We can move long boardroom tables, office desks/chairs, machinery, etc We will not let you down and leave you to abort to more expensive and less experienced removalists in Chatswood. Quick Move will assist anyone in need, whether it be a 1 item delivery or a 5+ bedroom home. Quick Move is an experienced and knowledgeable removalist in Chatswood. Check our customer reviews from people all around Sydney and we are sure you will choose us for your next move.
Respectful, Reliable, Removal Teams Ready To Tackle Any Job Large Or Small
In conclusion, Chatswood is 100% one of the best places to move to in Sydney. The opportunities are unbelievable and it is just an amazing suburb to start your career. If you are willing to move to a bright and beautiful city, then Chatswood is the place for you, and who better to move you than this suburbs local and affordable Chatswood removalists. Quick Move has been in the removalist business for over 8 years now. Therefore we have expanded our services to more than just house and office moves. We also do event relocations and setups. This includes weddings, concerts, engagement parties. Whatever you need moved and relocated, Quick Move can easily do for you. Learn more about us and we guarantee we will convince you to book with us 🙂
Rates As Low As Ours Are Unheard Of, Be Quick & Book Your Move With Quick Move!
Quick Move has been ranked one of the best for many years, and we are only getting bigger and bigger. Quick Move has served over 80,000 happy customers in Sydney.  And we guarantee you will have a smooth and relaxing moving experience. Our hardworking removalists expect you to do nothing at all, just let the professionals do all the work for you! Our movers have been trained exclusively to give the best services possible. We can help you pack into your boxes and unpack as well, there are no limitations.
It is Super Easy To Make A Booking, Simply Call Us Today On 1800 784 256
Booking with Quick Move comes with many inclusions, such as free padded furniture blankets wrapped on all of your items, free plastic protection wrap that we will cover all the mattresses that we move, we also supply all the necessary equipment like trolleys, dollys, and tools to disassemble/reassemble. Please do not hesitate to call us, you can reach us on 0487 399 669 or check out our contact us page.
Quick Move Proudly Servicing All Suburbs Within The North Shore