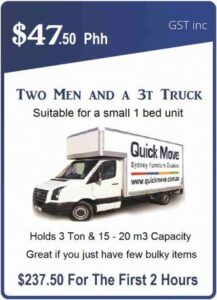 Quick Move Removalists Parramatta we provide removalist services within the district of Parramatta. We are affordable, reliable, and fast! A local moving company dedicated to delivering professional furniture removals services in Parramatta. Firstly our customer service team will ensure you get nothing but the best experience.
Parramatta is a great place to relocate to, it's central to everything that Sydney offers! Experienced and reliable. Quick Move, renowned for reliability! Call us today for a free quote 0487 399 669. Moving can be a big pain, but let us at Quick Move remove all that stress. Our friendly team of removalists handles all aspects of the move.
Upon arrival, we will carry out a quick inspection of the property, its access, and park our truck in the best spot. This task takes only 5 minutes but will save you money. When we get our truck close to the entrance of the home it saves a lot of time. As you can appreciate going back and forth to the truck with a long walking distance is tiring. But you will be glad to know that our removalists will bring the trollies and moving equipment to get the job done regardless.
Furniture Removalists Parramatta, Sydney NSW
In house removalist services,
We cater for in-house removalist requests, such as moving furniture within the same building or to a building nearby. When there is no need for a truck, let our removalists in Parramatta handle the task.
Office relocations and business removals,
Our office relocation team can assist with all aspects of any business relocation. The men are fully trained to disassemble desks, tables, and large commercial furniture and reinstall it. We bring all the necessary tools required. And we can even unplug and reconnect electronics and computers.
Parramatta Removalists
Your first initial contact with us will have you sold. Our experienced and knowledgeable removals staff will be able to help you with any inquiry. Firstly grab a quick quote, then go over all of the finer details. Then compare our rates and terms with other removalists in Parramatta. You will soon see the big difference in price. But not just the price, we differ in many other aspects. Such as our two men and a truck Parramatta service actually comes with a truck size of your choice. Other local movers in the area will only send a small truck unless you ask specifically for the larger one.
Therefore only then after you have done your research about us you are ready to go. You will be amazed at how quick and professional our guys actually are. Because prior to arrival, you will receive a courtesy call to let you know we are on our way. And once we have arrived it is straight into moving.
However, with us there's no mucking around, our removalists will have all your items wrapped in no time. We use soft padded furniture blankets for maximum protection. And then carefully carry and placed on the truck. Once we have reached your delivery location you will be happy to know we will have all your items inside and placed carefully where you want them to go.
Fully Equipped To Relocate Any Size Home, Choose Small, Medium & Large Trucks
We will even reinstall your fridge and get your washing machine all hooked up for you and ready to use. Nothing is too hard for us. Parking in Parramatta can be complicated, so in some cases, we have to obtain permits from the council, check with the Parramatta city council. If it is a High Traffic area you are moving to, you will also need a traffic control setup this consists of Hi Vis witches hats and signs, we set up the access path so that the public know we are working and caution is required to contact us to find out more.
Furniture Removals Parramatta
Our customer service will impress you with our friendly phone staff
The furniture removalist teams are all experienced and professionals
We bring with us the trolleys, dollies, and tools to assemble
Our trucks are fully equipped with quality soft blankets protecting your furniture
All of our vehicles are clean and tidy allowing no dirty marks, unlike other Parramatta furniture removalists.
Parramatta Movers
Within Parramatta, we can move your home from one address to another. Furthermore, we conduct the removalist work with care, we do not rush but we get the job done quickly. The price we charge for removalists Parramatta is very competitive given what we experienced. You can find the price per size truck by selecting the truck size of your choice. They all carry in price because of the size truck required. For example, if you had just a 1 bedroom unit in Parramatta, you would only need a 3T truck. That 3T truck should fit most of the normal furniture people may have, however, we always recommend that you overestimate. Why? Because when you overestimate you virtually remove the risk of running into two trips. That second trip could blow out the budget, so take our advice and overestimate in order to get the truck that will fit everything.
Quick Move Proudly Servicing All Suburbs Within The Parramatta City