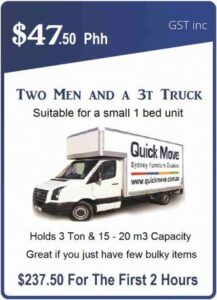 Welcome to Quick Move's information page for our cheap furniture removalists! This page is useful for those moving in or out of Lidcombe and looking for cheap moving services to get your items in or out of your home safely. This is a stress-free service! If you would like a free moving quote you can apply online through our website's quotation forms or you can give us a call on 0487 399 669 to get a quote over the phone.
Furniture Removalists Lidcombe, Sydney NSW
Lidcombe is a very large and popular suburb in the Cumberland / Parramatta Council in the Western Sydney Region. This suburb has approximately 19,500 residents, the majority of which according to statistics show are families with children. There are also many professional workers as it is quite a business-orientated area. The suburb is also just a 35-minute drive and train ride from Lidcombe Station, to the Sydney CBD which is definitely useful!
Quick Move is a trustworthy furniture removalist company operating in Lidcombe as well as the entire Sydney region! We also have a selection of cities outside of the Sydney metropolitan area that we service. Meaning, if you've actually been looking for cheap Parramatta moving services but stumbled across our Lidcombe page, then we can definitely still help you. Give us a call on 0487 399 669 if you would like to discuss the areas we service or if you are looking for more information about us!
Reliable, Hardworking & Fully Equipped Movers Open 7 Days
Quick Move offers cheap furniture relocation services all over Sydney, no matter what service you may need! Whether it be event setup and relocations, or last-minute moves, we can definitely still help you. Last-minute services are most likely needed due to unprofessional moving companies. Many leave their poor clients on the lurch or left with a horrible experience. Quick Move comes to save the day and can organize an emergency removalist service to get you back on track!
Quick Move is always the best choice for you! If you would like to make a booking with Quick Move then you can most definitely do that today. One of the easiest ways to book in with Quick Move is to go to our online booking forms and fill them out yourself! So, you can take all the time you need to make sure all the details are correct before you submit the form. However, if you prefer to speak on the phone contact us between 7 am and 7 pm on 0487 399 669 to book in over the phone.
Trusted, Dedicated, Superior Movers, Offering Low Rates & Two Men Teams
Office Removalists Lidcombe
Quick Move is the company that you need to make a booking with if you are moving offices in Lidcombe. We offer cheap office furniture moves and will get your items from A to B with no extra fees! This is because GST and fuel levies are included in the price! Our office movers are extremely qualified and have been in the business for at least five years! Therefore, they know exactly what to do in certain situations and how to make the best out of each move.
Furniture Removalists Lidcombe
You're making the best decision when you decide to book a move with Quick Move! Especially, if the safety of your items is one of your main priorities, Quick Move is definitely the number one choice. We will complimentary plastic wrap all mattresses to ensure that there is no damage taken, as well as dirt or grime put onto the mattress during transit. Another service we offer during moving your home is we provide free packing boxes for you to use on the day of your move. If you would like to pre-pack you can purchase them for $3 a box! What a steal!
Home Removalists Lidcombe
One of our most popular furniture moving services has to be our heavy appliance relocations. These appliances consist of fridges, washing machines, ovens, and many more heavy items. These items are extremely hard to move for the average person therefore, our professional movers are always the best choice. Quick Move can even relocate your items from docks from all retail furniture and appliance stores! Be sure to give us a call and don't be afraid to ask any questions!
Quick Move Proudly Servicing All Suburbs Within The Parramatta City