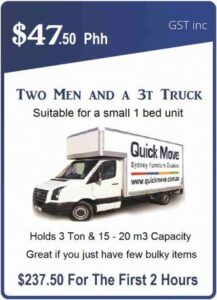 Looking for a Hornsby removalists service provider that cheap and affordable? Quick Move is the one and only cheap movers servicing Hornsby. we provide moving services 7 days a week, If you are looking to move from or with Hornsby to any other city or suburb within NSW. Rest assured that it won't cost you a fortune to relocate using our superior service.
Furniture Removalists Hornsby, Sydney NSW
Among the variety of moving services we offer to Hornsby we also supply free wrapping for your mattresses. Our removal team comes packed and prepared, providing you with all the necessary equipment you would need. With the information, you give us about your move we prepare a quote. Quick Move makes your moving experience, super easy and carefree for you. All you have to do is sit back and let our friendly team of movers do everything for you.
Hardworking & Trusted Professionals In Moving, That's Quick Move
We carefully choose our staff, making sure they are experienced. Our men are properly trained and are professionals. All customers can be relaxed knowing their furniture is in good hands. Specializing in small and quick moves in and around Hornsby. We have a wide range of vehicles so no matter if it's small or large. Cheap and efficient removalists are well trusted by over 80,000 happy customers.
A wide choice of truck sizes from vans that come with two men that cater to small moves with even just a few items, to large 12-14 tonne trucks with 3 or even 4 men.
Hire, One Or Two Men With Any Size Truck-In Hornsby Today, Quick Move Removalists
If you just need the muscle don't worry! you won't need to pay for a truck. We can send you as many guys you need for the job. For a simple or difficult move, very prepared and know how to handle hard moves. So don't stress and leave it to the professionals! Quick Move is the most trusted and popular company in Hornsby.  If you would like to know more about us click the highlight and it takes you straight away to a page where you can read everything about us.
Local, Reliable & Affordable Movers Hornsby, NSW
Your move is handled from start to finish by professional movers who have had more than 5 years of experience as we do not take anything less. We are a well-known company and we do not have low standards as we are dealing with items that are not our own and we need to make sure we are handling them safely and taking all precautions to make the customer happy.
Ideal Hornsby Removalists Local & Friendly, Fast & Affordable, That's Our Promise To You!
Unlike other Movers Hornsby, we have impressively cheap rates with the best staff available. we provide the best workers who have high experience for the amazingly low costs. On the day of your move, we also have special deals, for example, there is always free mattress wrapping on all of your mattresses but if you need extra boxes we come prepared! our boxes are free t use as long as they are returned, but if you need them permanently they come to only $3 per box! it's a steal!
But if you would like more reassurance our friendly staff is always there to answer any questions you have, you can call us on 0487 399 669 or you can click the highlighted words to take you to the contact us page.
We Offer Free Moving Boxes On All Moves Within The Hornsby Shire
Quick Move supplies you with absolutely everything you need to make your move as stress-free as possible. We provide all necessary moving equipment and packing materials. We have a wide range of truck sizes including vans that cater to the smallest of moves while also having larger trucks from 12-14 tonne incapacity that can handle the largest of moves. Our Hornsby removalist's rates are impressively cheap and affordable. You know you're really getting a great deal with Quick Move! When you book with us you're are experiencing top-notch.
Quick move is reliable and a trustworthy company. We make sure you are comfortable with how your items/ furniture are treated. If you would like to know more about the removalist service click the highlighted words.
To make a booking is just as easy once again there will be a subheading " make a booking ". Your move is then ready to go and you can expect a call from the guys on the day. You also get a confirmation email after you book where if you have any extra details. Things like mistakes, or reschedules you can just reply back to that confirmation email.
Hornsby Removalists That Are Careful, Honest & Most Importantly Experienced
Quick Move has amazing customer reviews, you can even see for yourself! we handle all situations very carefully to make sure the customer stays calm. Just placing a review helps our business to great measures which progresses to making your move even better. We started out as a small company with just 1 man and a van, but we learned from our mistakes and grew to professional movers. We now have over 19 trucks and over 50 very well-trained and experienced workers.
Best Prices In The Hornsby Region, We Can't Be Beaten On Value For Money!
Quick Move makes getting a quote super easy for you. If you would like to get a quote you can access it right now by simply searching Quick Move. Once it brings you to the main screen just click the subheading "get a quote" all you have to do is take a small moment of your time to fill out those questions and you can get a reply within minutes.
Quick Move Proudly Servicing All Suburbs Within The Hornsby Shire