Furniture Removalists Flemington, Sydney NSW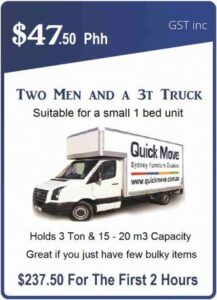 Quick Move removalists Flemington, the furniture movers you trust. We offer a wide range of furniture relocation services. In order to obtain a free moving quote, simply call us direct on 0487 399 669. Our movers in Flemington are always happy to take your call and give you the best price available. Quick Move is a moving company in Sydney, a company you can trust and rely on. We operate 7 days a week from 7 am to 7 pm!
Flemington is a well-known and loved suburb in the Western Suburbs of Sydney, under the Strathfield Council. Speaking of Strathfield, if Flemington wasn't what you were looking for then maybe our Strathfield services might be an option. Those who live in Flemington are usually professionals and retirees as they enjoy the lovely and welcoming neighborhood.
Anyone moving to Flemington would be happy to hear that all of our movers and staff are fully trained to the highest standard. We are an accredited moving company in Flemington. Now have conducted over 10,000 moves within the last 10 years and are regarded by the locals as the number one best movers. Our fees and charges for moving services are very competitive. We challenge you to research other moving companies and compare our prices against theirs. Remember our prices are fully inclusive of GST, fuel and we have no hidden fees. To get a quick quote today please call us direct on 0487 399 669 or fill out a quick quote request form here via the website.
Affordable Home & Office Removalists Flemington
Furniture Removals Flemington
Here at Quick Move, we ensure every item you put into our care is kept safe and sound throughout the entire move. So, if after we've moved you, you have a few items you no longer require, we can transport those items to a waste facility. Our rates are low though our movers are fast!
Small removalist Flemington
No matter the size of your home in Flemington, we have you covered. We can relocate the smallest of homes or even if you only have a few items that you have purchased online we will happily help. We can send you 2 men and a van or a small truck and deliver them to you that same day, not to mention for a super cheap price at that. See more about our small moving services by calling on 0487 399 669.
Two Men and A Truck Flemington
Hire two men and a truck for a moving service in Flemington. Our prices are low, our movers are fast and our experience is high. There is not much more you can ask for from your local moving company. We recommend you give us a call on 0487 399 669 so that we can give you a quote today. Alternatively, use our quick quote form here via the website
Office Removalists Flemington
Though Quick Move is predominately a home furniture relocation company in Flemington. We also regularly conduct office removal services for those in Flemington and in Sydney. Our staff are trained to efficiently move, unplug your PCs, pack your archived boxes, and much more. There are no other movers like Quick Move! Read more about our office moving services here.
Last-Minute Moves Flemington
Having an emergency relocation request? We are more than happy to help, our emergency movers are fast to react and cheap on price. You can have an emergency mover within the hour! You'll get 2 men and either a van or a truck to quickly get you packed up and on your way to your new home. For a last-minute move, we strongly recommend you phone us first on 0487 399 669.
Reliable Furniture Removalists Flemington 7 Days A Week
Reliable and hardworking are just some of the kind words you'll read when searching through our customer reviews. It's because we go that extra mile in Quick Move! Our movers make absolutely certain you are satisfied with our service prior to paying. We are a professional moving company in Flemington which means we provide a full relocation service, unlike any other movers. We can disassemble your bedding and furniture so that it fits through tight access. We'll happily reassemble your bedding and plug in your appliances. You'll also be happy to hear we offer a free complimentary plastic wrap on all of your mattresses and offer unlimited packing boxes for your move to Flemington.
Flemington is a super popular area, especially on the weekends. This is because of the famous paddy's markets, one of Sydney's most popular tourist attractions, you are sure to find something for you at these markets, they offer amazing cultural foods, trendy clothing, beauty products, cleaning, plants, small pets, and more.
Book in with Quick Move by giving us a call now on 0487 399 669 or you can make a booking online simply by taking a moment of your time to fill out a small form.
Quick Move Proudly Servicing All Suburbs Within The Inner West City