Furniture Removalists Mount Kuring-gai, Sydney NSW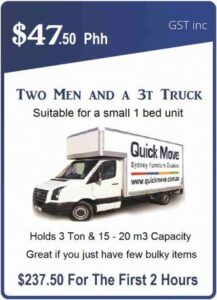 If you are on the lookout for cheap movers today, then you have come to the perfect spot. Here at Quick Move, we offer cheap and affordable furniture removalists for anyone moving in or out of the suburb. So if you are moving to Mount Kuring-Gai give Quick Move a call today on 0487 399 669 and we will provide you will a free moving quote over the phone.
Mount Kuring-Gai is a great place to move to in the Northern suburbs of Sydney. Mount Kuring-Gai is a small suburb with just over 1000 residents, the majority of which are families with children as the homes are usually large homes with many bedrooms. Some properties even have a large amount of yard space so the kids can run amok! The median house price for Mount Kuring-Gai is sitting at $895,000.
Quick Move's men are the furniture relocators you need for your next move. Although, if this particular suburb is not what you were looking for, we actually service the entire Sydney Region. So if instead, you were in need of furniture movers Hornsby then we could definitely help you!
Affordable Home Removalists Mount Kuring-Gai
Furniture Removalists Mount Kuring-gai
Our men are the only movers in the moving industry that actually take good care of your items and make sure they are kept safe for the entire move. We will even complimentary plastic wrap your mattresses as well as wrap every piece of furniture in padded blankets. These are some of the most important parts of the move that other companies will not offer. We really take that extra leap and do anything to keep your items safe and sound.
Last Minute Removalists Mount Kuring-gai
Those that have been let down by their previous choice of movers may be feeling left stranded with nothing more to do. However, you can always call Quick Move who will be extremely happy to help. We will organise an emergency moving service for the same day, or if that is unavailable we can do it first thing the next day! We are a professional company that will never leave you in the lurch, you can trust Quick Move.
Office Removalists Mount Kuring-gai
Quick Move has conducted hundreds of office relocations, giving all of our movers a great amount of experience. This will reassure our clients that we are the professional relocators that they can trust. All of our guys have had at least 5 years of experience in the moving industry. Therefore, they know moving services like the back of their hand, not to mention we have serviced every suburb in Sydney so we know which suburbs are busy or quiet so we can prepare!
Large & Small Removalists Mount Kuring-gai
No matter what size home you may have, Quick Move will always be able to help you with a quick and smooth service. Our men will relocate all of your items in no time whether it is just one small item or a full furnished 5+ bedroom home. We have the manpower as well as the correct sized trucks to help any sized move! You can select our truck sizes from a small ute or van to a 12-14 tonne truck!
Reliable Furniture Removalists Mount Kuring-gai 7 Days A Week
If you were looking for furniture movers that can perform cheap and affordable fridge & heavy appliance deliveries. Then you can stop your search. Our removalists will use our hydraulic tailgate lifters to get your appliances up safely into the truck. Once we have delivered them to your home in Mount Kuring-Gai, we will even install them for you! All you have to do is ask.
Mount Kuring-Gai is a wonderful place to move as the homes are quite cheap for the benefits and advantages you achieve. For example, a large portion of the homes in this area has beautiful water views which is a gigantic plus to many people. There is also a local Mount Kuring-Gai railway station which we are sure you will find extremely convenient.
Make a booking today by simply contacting us via our website by making an online booking. Or you can give us a call between 7 am – 7 pm any day of the week on 0487 399 669. Our movers will forward you straight to our bookings department where our wonderful staff can get you all organised for the big move!
Quick Move Proudly Servicing All Suburbs Within The Hornsby Shire