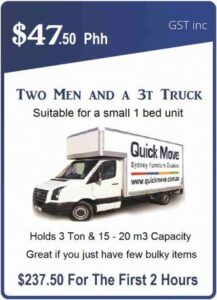 Quick Move removalists Mosman is the only company you can really trust and rely on. Most importantly we supply the best services at the cheapest rates in your area. Mosman is located on the north shore of Sydney.
Firstly Quick Move operates in the whole of Sydney. Moving people from as far down as Batemans Bay and as far north as Central Coast. Mosman is a great place to move if you have a family as the area is very safe and has unlimited things to do. Mosman's general housing is mainly small 2 bedroom-sized apartments or small or medium-sized suburban houses with 2-3 bedrooms.
Experienced In Removalists Mosman, Quick Move Ensures Satisfaction
Secondly, the suburban areas are very good for families as you get houses with the number of bedrooms you need plus plenty of backyard space for the kids to play. Therefore the median house price for Mosman is currently sitting at $3,737500 which is very expensive but definitely worth it. Quick Move specialises in moves like these and will happily relocate your whole home for the cheapest price available. Get a quote now and you can receive a response instantly.
Whether you have been left in the lurch by other removalist companies or if it is an emergency move, we make ourselves available to help you get right back on track. Quick Move makes time for those emergency moves and we can send out the next available truck for you even on the same day. Furthermore, Quick Move always has different deals going just to take that leap and make it even cheaper for you. We already offer the cheapest prices in Sydney why not make it even better?
Hardworking, Trusted & Affordable Removalists In Mossman, NSW
There are many things for you to enjoy in Mosman. Such as the city of Sydney is only a 23-minute drive from Mosman which is why it is one of the most popular areas as many of the 20,000 residents have jobs in the CBD. And there are many ways of transport in Mosman starting with the public buses that are running all day. For instance, the ferry is a cheap and fun source of transportation if you're living in Mosman.
Mosman is a great area for elders because many ideal retirement areas have small beautiful homes, easy transportation, and mostly water views. The views from the apartments in Mosman are outstanding. Because living in Mosman is something many people would love but just can't quite get there so be happy to know if you live in Mosman you are living many people's dreams. Quick Move has amazing customers who love to give us feedback, check out our customer reviews to see what Sydney is saying about us!
Mosman Movers For A Cheap Quick Move
If you are moving to Mosman Quick Move has to be your number 1 choice. We are however very popular in the area because we really know our way around. Mosman is quite a busy suburb as there are many things in the area that attract quite a lot of people e.g Taronga Zoo which is a huge tourist attraction!
In this paragraph, I will be explaining how Quick Move will help you move with the best moving teams in the industry. Booking with Quick Move ensures that you get the best services, you get two men and a truck size of your choice. Free boxes can be used and returned on the day. We bring all the necessary equipment like trolleys to keep the job running quickly and smoothly.
Firstly the movers that arrive at your door are the best removalists in all of Sydney. Secondly, they are well trained and most experienced as Quick Move expects nothing but perfection when it comes to the services performed for our customers. Lastly and most importantly we are the best moving company in Sydney.
Therefore Mosman is the perfect place for families as they have their very own local schools. Mosman High School, Mosman Preparatory School, and Mosman Primary School. These schools are perfect as they are local and easy to get to. If you are moving to or from Mosman, Quick Move is your best choice as we really are the best removalists in the area. Contact us on 0487 399 669 today.
We Are Trustworthy & professional Removalists Mosman, Ready To Move You Today
And Quick Move will happily move you and your family to your dream home in Mosman. Mosman offers some of the best views in the whole of Sydney. Therefore overlooking the Sydney harbor and the harbor bridge. Mosman has some amazing parks. Memory Park is one that would be super fun for the kids to play in. On a nice day after school, bring a ball, and their entertainment is set for the rest of their day. Above all, there is also a play area with slides and swings and even more equipment. In other words, it has everything fr the kids.
Quick Move does everything from fully furnished house moves, one item deliveries, event setups, and many more. We take that extra step and will help you in any way you need. We can pack and unpack boxes or assemble and disassemble any items needed. Quick Move operates from 7 am to 7 pm every day even on public holidays. Last but not least call us on 0487 399 669. If you would like to book with the best removalists in Sydney book with Quick Move. To make a booking it is super easy just fill out a simple form and you can expect a fresh team of well-experienced men to move your home.
Quick Move Proudly Servicing All North Sydney Suburbs