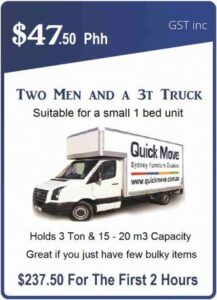 Quick Move is your local professional cheap removalist in Freshwater and if you book with us you are lucky enough to get our services for the cheapest prices. Freshwater is a lovely area to move to, especially for families with children and couples ready to start a family. And it is known for its greenery and a family-friendly community. It is a fantastic place to live with so many things to do for children and adults. Quick Move is a very professional moving business and we cannot afford to make mistakes.
So you know you can trust us to assist in moving your home. The area is so lovely we know why you would like to move here. It conveniently has 2 local schools, Harbord Public School and St Johns the Baptist  Catholic Primary School. Quick Move will beat any price another mover will offer you. Contact us today not only do we have great rates we offer great services the best in Sydney!
Furniture Removalists Freshwater, Sydney NSW
Quick Move has been Freshwaters cheapest mover now for over 11 years. So we have our system down pat, to ensure all customers are satisfied with our results. Manly is just a short 10-minute drive from Freshwater. So you have access to one of the best beaches in the world let alone Sydney! This is perfect for the kids on a hot summer's day. Quick Move does thousands of moves each year ranging from a huge 6+ bedroom furnished home to small one item deliveries. Quick Move can do anything for you so make sure you get a free quote online today! or you can call us anytime between 7 am and 7 pm on 0487 399 669 for a quick over-the-phone quote.
Quick Move really loves moving within this superb suburb, it is one of the safest areas in Sydney. Houses are very hard to find in Freshwater. And if you are lucky to find them they are quite expensive. Mainly because people love the community and safety in the suburb. Quick Move is the one to move your items/furniture into your dream home here The local council says the median price for a house in Freshwater is currently $2,250,000 which is definitely expensive, but if you can afford it then it is very worth it.
Over 11 Years Experience In Removalists Serving Freshwater
Quick Move has conducted over a thousand moves to and from Freshwater. We can say it is one of our most popular areas to move to. And it has many facilities that the residents tend to use regularly. Such as, the closest shopping center being Westfields Warringah Mall. Also is known for having amazing restaurants. And many people can argue over and over about which spot is the best. But Quick Move chooses Thai Khean Khoon Cuisine after a long day of moving. We will happily move anything you request, whether it be an entire home or event equipment. We offer delivery for market tents, etc Quick Move can always help.
Many people in the area have been left stranded. Especially after choosing another cheaper alternative Check out Quick Moves customer reviews and we are sure you will want to book with us after reading what all of Sydney and your fellow residents say about us!
Hardworking Removalists In Freshwater That You Can Trust, Rely On & Afford
Quick Move is the obvious choice if you are moving home or office. Because we many deals especially during special times in the year. And we will always switch them up but as of right now: Therefore all mattresses we move for you are wrapped in free plastic wrap to ensure they are kept clean during transit. Because we also provide free boxes to be used on the day if they are able to be returned. Freshwater has been locally known as Australia's home of surfing, a popular surfer in 1914 by the name of Duke Kahanamoku made this legendary surfboard from Australian timber after inspiration from the local beach.
Most popular removalist in all of Freshwater, That's Quick Move
One of our most popular areas to move we service. Being one of Sydney's best suburbs to live in, in terms of safety. The community, and schools for children/activities for children. Quick Move is has moved over 80,000 happy customers since our establishment in 2011, where we started off as just 1 man and 1 van, now we are one of the biggest operating furniture removalist companies in Sydney with over 80 hardworking employees. And 20 optional-sized trucks for you to choose from. You can make a booking online with Quick Move now easily all by yourself online, where you can also activate a 5% discount! Our operating hours are from 7 am to 7 pm on 0487 399 669, you can call us anytime between those times and we will happily book you in over the phone.
Only a 10-minute drive which is super convenient as you have the ferry as a quick and easy way to access the city and many many more opportunities and facilities in Manly. In conclusion, Quick Move has to be your choice when moving your family to Freshwater.
Hire Two Men Our Truck, We Come With Everything You Need To Get The Job Done
Quick Move can do anything you need all you have to do is ask! Our employees are extremely hardworking and willing to do whatever it takes. Absolutely anything to make your moving experience as stress-free as possible. And all you have to do is sit back, relax and let the professionals do all the work for you. Quick Move can even help assemble and disassemble any item you need! we can also help pack your items into your boxes if you didn't have any time for example an emergency move.
That is another thing Quick Move can help you with, many people have called us as their original removalists have left them stranded, something we could never do, but don't worry Quick Move to the rescue! We can definitely help you with a last-minute move as long as you don't mind what time.
Learn more about us and we are sure you will be booking with Quick Move-in no time 🙂 Call us on 0487 399 669 today and we will happily answer any questions you have about Quick Move and how we operate!
Quick Move Proudly Servicing All Northern Beaches Suburbs Of Sydney