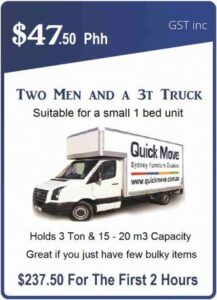 If you are looking for the cheapest removalists Normanhurst, offering the rates throughout the entire Sydney Region, then you need to choose Quick Move! Firstly we are the professionals that actually care about your items and take the time to make sure they are safe and sound throughout the entire move. If you choose to go with other moving companies your items are at risk of being lost. Possibly even worse damaged, choosing the wrong removalists that have been proven to be unprofessional is a big mistake. Contact us today by giving us a quick call on 0487 399 669 and our friendly staff can provide you with a free moving quote over the phone 🙂
Furniture Removalists Normanhurst, Sydney NSW
And secondly, Normanhurst is a great suburb that falls under the Hornsby Shire Council in the North-Western Suburbs of Sydney. This suburb is quite small with only approximately 5000 residents, the majority of professional workers or small families with children. This is because the general house types are small homes with 2-3 bedrooms. The median house price is currently sitting at $1,359,010. This suburb is great for families as there is the Normanhurst Boys High School, Loreto Normanhurst ( an all-girls catholic school ), and the Normanhurst West Public School.
Therefore you should definitely give us a call today on 0487 399 669. Our wonderful ladies in the head office will happily explain to you all of our prices as well as figure out the best service for you! Quick Move is the professional removalist in Normanhurst you need if you are thinking of moving homes to Normanhurst.
Affordable Home Removalists Normanhurst Sydney
Quick Move is the cheapest decision for you if you are looking for professional and efficient removalists service. Here are our most popular Normanhurst home moving services you should consider.
Office Removalists Normanhurst
Quick Move is the office removalists that always know exactly what we are doing for you. We will easily disassemble and reassemble your business furniture for easier access. Because we can unplug and relocate your computers, monitors, machinery, etc. No matter what you need to be done, Quick Move can do it all for you, all you have to do is ask!
Furniture Removalists Normanhurst
However other movers do not offer and provide safeness when moving your furniture. Quick Move does, and we will take extra precautions to make sure that there is no way your items can be damaged. For example, We will complimentary plastic wrap all of your mattresses to keep them clean during the move. Completely covering all of your items in heavy-duty padded furniture blankets. And we will even provide free moving boxes for your fragile and loose items.
Last Minute Furniture Removalists Normanhurst
Therefore Quick Move is the professional removal team you can actually trust. Other movers in Normanhurst have proven themselves as unprofessional, of poor quality. Most are and not consistent with their services, they have been known to not even arrive. Quick Move will never do that to you. This is why our moving services for Normanhurst should always be your number one choice!
Two Removalists Normanhurst & One Truck Services
You will not find other removalists that are 1. cheaper 2. higher in quality and 3. more trustworthy than Quick Move. We guarantee the great service you could imagine. You can expect two hardworking guys and our highly recommended truck size or the size you believe is the best for you. And we offer this service for as little as $45 phh.
Quick Furniture Removalists Normanhurst Operating 7 Days A Week
Experienced and qualified removalist company for your upcoming furniture removals in Normanhurst. Quick Move offers a large range of services that would be convenient for you. For example, if you have purchased any products from websites such as eBay, IKEA, Gray's Online, and Gumtree. Our delivery team can easily pick up and drop off whatever furniture you need to be moved. No matter how many stops and destinations our guys won't refuse and won't complain 🙂
Normanhurst is the perfect suburb to move to for families with children because you are in quite close proximity to many facilities that parents will find very useful. Such as the Thornleigh Marketplace which is a shopping center just a quick 6-minute drive. For the kids, there is the Normanhurst Oval which also has a playground which is great as the kids can play in the park while the parents can sit and relax.
Save more money by choosing Quick Move. And save even more money by making a booking online by filling out our small booking form, as anyone that chooses to make a booking online receives a 5% discount upon purchase! Or you can contact us today via our website or giving us a quick call on 0487 399 669 and our helpful staff will happily do it all for you over the phone 🙂
Quick Move Proudly Servicing All Suburbs Within The Hornsby Shire