Furniture Removalists Mount Annan, Sydney NSW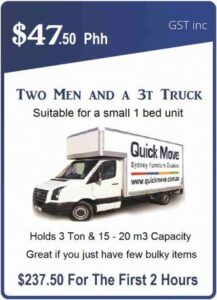 If you are moving in or out of Mount Annan and were in desperate need of cheap movers, then you have come to the perfect place! Quick Move's workers are the best possible option for you. With our high-quality moves by professionals, along with our unbelievably affordable rates, there is no competition! Therefore, you should call Quick Move today on 0487 399 669 if you would like to know more about us and what makes Quick Move the best choice for you.
This suburb is located under the Camden Council in the North-Western Suburbs of Sydney. Those that are moving to Mount Annan are extremely lucky. This is because Quick Move can help as we assure you we are the most trustworthy company in the Industry. You will love living in Mount Annan as there are many things locally that you might find extremely convenient! For example, the suburb both has a local school and a marketplace nearby. Both are very useful to parents with children not wanting to travel too far.
If you were wondering what Quick Move's most popular service was for your area. Then it has to be furniture delivery services. It is for those that have purchased furniture from websites or stores and were needing help with moving. Call us today on 0487 399 669 if you were needing these services.
Affordable Home Removalists Mount Annan
Those that are moving to Mount Annan will be extremely pleased to read this small list of services we offer to you:
Last Minute Removalists Mount Annan
If you have any sort of emergencies and were desperately needing cheap relocators, then you should call Quick Move asap on 0487 399 669! Our staff should be able to organise a same-day service!
Small Removalists Mount Annan
If you were only needing a few items relocated or maybe just a small home/apartment. Then Quick Move has an amazing deal for you. You could get two amazing men along with a small truck fitted for your move for as little as $45 phh. That is a price we guarantee other companies will not offer.
Office Removalists Mount Annan
Whether you were needing a complete office relocation or just a small handful of items, Quick Move can always help you with your office relocations. To book with the safest and most professional moving company, you must go with Quick Move! As we have over 8 years of experience and can relocate whatever business furniture you need.
Reliable Furniture Removalists Mount Annan 7 Days A Week
Therefore, if you are moving to Mount Annan and were needing a cheap way to relocate your items, Quick Move is here to help you and provide you with professional workers you can count on! Although, if you were looking for services in other areas, then Quick Move can still definitely help you. Check out the areas we service to double-check that we can definitely help you!
Mount Annan is a great suburb to move to for families with children. This is because it is a suburb with a close community and with many things parents will find useful and convenient. For example, There is the Ulta Medical Centre just 5 minutes away, it is always lucky to live near doctors, There is also the Mount Annan Swimming Club which we are sure many of you will enjoy.
In conclusion, Quick Move is the company you should book in with today! You can make a booking online easily today by simply filling out our online booking form. And once it is all submitted you will receive an email, in that email is your confirmation and receipt saying you are all locked in for your move! Always book in with Quick Move in order to get the best service you can imagine!
Quick Move Proudly Servicing All Suburbs Within The Camden City