Furniture Removalists Chinatown, Sydney NSW!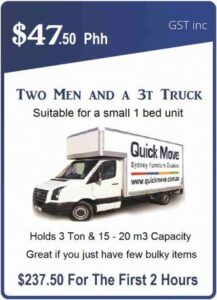 Quick Move is your local moving company offering our cheap removalists Chinatown throughout the whole Sydney region. Quick Move conducts quick and successful relocations that you will be very pleased with. We are sure you will appreciate our fast and cheap moving services. Call Quick Move today on 0487 399 669 to have a quick chat with our wonderful staff that will happily provide you with a free quote over the phone 🙂
Chinatown is a very popular area right next to Chinatown right in the City of Sydney in the Sydney CBD. Chinatown has its very many events and restaurants that you will absolutely LOVE! It has its very own Markets called Paddy's Markets that are now one of the Sydney CBD's most popular tourist destinations. You will definitely love living in these suburbs.
Quick Move is the moving company that you can really trust, no matter what size move. Our movers will move with ease. Leaving you happy and relaxed knowing you had a quick and nonstressful service all for a cheap price. You can have a quick look through our customer reviews and just by reading the first few, you will realize Quick Move really is the best choice for you.
Affordable Home Removalists Chinatown
Office Removalists Chinatown
Firstly, all throughout the Sydney CBD is large office buildings. There are hundreds around this area in particular so if you are looking for a quick and inexpensive office relocation then Quick Move is your number one choice. We will relocate ALL of your general business furniture and more for cheap and affordable rates you won't believe!
Internal Removalists Chinatown
Secondly, if you are just needing a few men to help you relocate items around your home, then our movers are for you. We can send out as many men you need without the extra charge for the truck they arrive in. For a quick and cheap internal furniture relocation you must hire Quick Move.
Small Removalists Chinatown
Thirdly, it is very hard to find a parking spot in the city, especially for a large truck. Luckily for you Quick Move pre-packs all the necessary equipment for your move so we can get it down quickly and more efficiently. Even if we have to park a little down the road, we can assist We pack, trolleys, dollys, free boxes for the move. We even bring tools to help disassemble/reassemble your items.
Furniture Removalists Chinatown
Complimentary wrap all of your mattresses in plastic protection wrap, free moving boxes and coverage of all of your furniture in padded blankets. These are just a small amount of what we will do to keep your items safe and sound when moving. Therefore, book with Quick Move for a safe and sufficient move in Chinatown.
Reliable Furniture Removalists Chinatown
Additionally, other movers cannot compete with Quick Move. Many have been known to perform very badly arranged relocations and sometimes not arrive at all! Be aware that Quick Move will never do this to you nor let you suffer. If this has happened to you from unprofessional movers, then Quick Move will happily perform a last-minute/emergency move for you!
Chinatown is one of the most popular areas in Sydney. There are hundreds of amazing Asian restaurants that we are sure everyone can enjoy. Our movers have been relocating to Chinatown for years. Every time we always stop at our favourite place in Chinatown, the Emperor's Cream Puffs in Chinatown. It is a very small shop that would go unnoticed except it has grown quite a popularity and now has very long lines almost every time! But trust us the line is worth the wait as these small custard puffs are truly amazing!
Finally, Make a booking online today just by taking a small amount of time to fill out our online booking form. Just by doing this, you can also receive a 5% discount! Or you can give us a call today on 0487 399 669 for our staff to get you all ready for your relocation to or from Chinatown. All you have to do is sit back and relax while the professionals do all the work.
Quick Move Proudly Servicing All Suburbs Within The Sydney Inner City