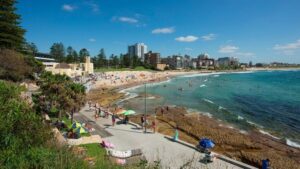 If you have been searching for cheap furniture removalists Sutherland Shire but haven't come across the right company, then you can stop right here as we guarantee you have found the professional and affordable furniture relocators you need! There are no other companies that can beat our amazing prices! Not to mention how our qualified men relocate your items quickly and safely! You can trust Quick Move, contact us today via calling 0487 399 669 and our staff will happily tell you even more about us and why we are the best choice for you!
Hire Cheap Removalists Sutherland Shire Today!
Sutherland Shire is a very large area within the Inner Southern suburbs of Sydney, with its very own Sutherland Shire council! This suburb holds well over 220,000 residents, that is quite a lot of people if you ask us! This suburb is popularly known for covering over 5km of beautiful sandy beaches. The most popular probably being the North Cronulla beach! Absolutely beautiful and something we are sure you will enjoy when living in the Sutherland Shire.
Quick Move's men have been performing large and small moves for over 9 years now since our establishment in 2011. They are experienced and well trusted throughout the entire Sydney Region. You will not regret choosing Quick Move for your move. Give us a call today on 0487 399 669 if you would like to know more about our prices and to get a free quote today over the phone!
Quick Move Sutherland Shire, The best movers in the city!
Furniture Removalists Sutherland Shire
Those that have fragile and delicate items can depend on Quick Move for a safe, quick, and easy move. Our movers will even complimentary plastic wrap your mattresses for extra protection! Something many other companies do not offer.
Office Removalists Sutherland Shire
Sutherland Shire has many offices and business-oriented areas that have many office buildings that are needing a move. Quick Move has performed many services within Sutherland Shire and office relocations tend to be one of our most popular. We will move all furniture! Including heavy machinery, basic office furniture, and even electronics such as computers, TVs and many more.
Last Minute Removalists Sutherland Shire
Quick Move is a professional company well trusted and known throughout the whole of Sydney. If you have been left stranded, which is a common occurrence performed by unprofessional companies. You must call Quick move for a cheap and affordable last-minute service! We will organize a small slot to get you back on your feet!
Event Setup & Relocations Sutherland Shire
Quick Move will happily help anyone in need of moving throughout the entirety of Sydney. Meaning if you were needing movers for event relocations or setups. Quick Move can most definitely help you with that! Event relocations can be anything at all, weddings, engagement parties, concerts, gigs, markets, and many more! There is nothing Quick Move will not do to help you have a great moving experience.
Reliable Furniture Removalists Sutherland Shire 7 Days A Week
Quick Move will happily service anyone in need of furniture removalists Sutherland Shire throughout the entire Sydney Region, we even help many surrounding cities of Sydney! This means, if you have actually been looking for another suburb, then we can most definitely help you! If you would like to know more about the areas we service you can check that out online or you can easily give us a call on 0487 399 669 and our furniture removalists Sutherland Shire will happily let you know if we can help you.
Sutherland Shire is a great place to move to for families with children as there are many family-friendly activities! Such as the Sutherland Leisure Centre which has a local swimming pool! and we are sure you and your family will definitely enjoy it, especially on those hot summer days! The median house price for Sutherland Shire is currently sitting at $949,044 with the homes generally being quite large and even having beach views!
If you would like to lock in Quick Move for your furniture removalists Sutherland Shire, then you can easily make a booking today via our website today by filling out our online booking form that will take you no more than a couple of minutes! You can also book in by giving us a call on any day of the week from 7 am – 7 pm on 0487 399 669 and our furniture removalists Sutherland Shire will happily help you!
Quick Move Proudly Servicing All Suburbs Of The Sutherland Shire